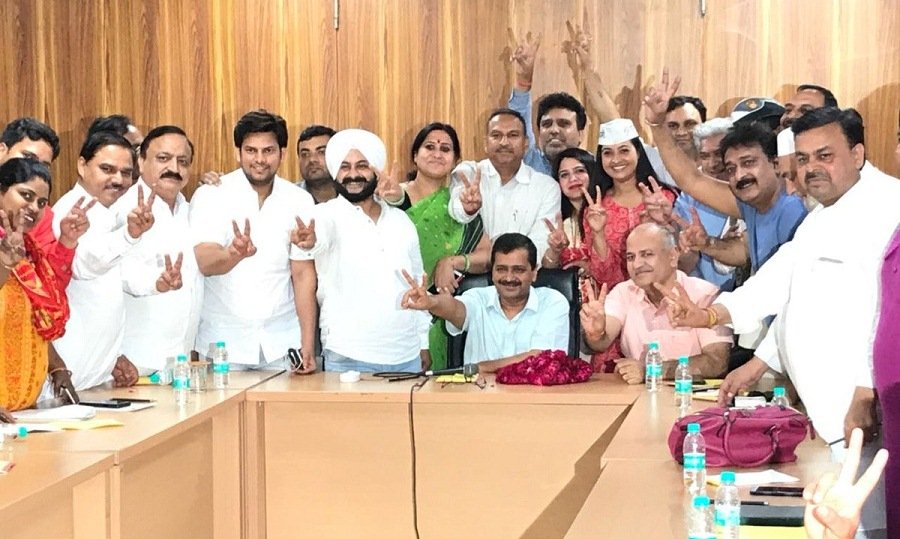 Caravan News
NEW DELHI: The Delhi High Court on Friday reinstated 20 MLAs of Aam Aadmi Party who were disqualified by the Election Commission of India in January this year for allegedly holding office of profit. While quashing the EC order of Jan 19, the High Court said that not hearing the MLAs by the election panel was against the principles of natural justice.
"Opinion of the ECI dated 19th January, 2018 is vitiated and bad in law for failure to comply with the principles of natural justice. Accordingly, Writ of Certiorari is issued quashing the said opinion dated 19th January, 2018 and the consequent order/notification dated 20th January, 2018 for violation of principles of natural justice, namely, failure to give oral hearing and opportunity to address arguments on merits of the issue whether the petitioners had incurred disqualification…" said the High Court bench of Justices Sanjiv Khanna and Chander Shekhar.
The High Court also asked the Election Commission to hear the 20 AAP Members of Delhi Assembly and "thereafter decide the all important and seminal issue; what is meant by the expression "office of profit held under the Government" and re-examine the factual matrix to decide whether the petitioners had incurred disqualification on appointment as Parliamentary Secretaries, without being influenced by the earlier order or observations on the said aspect in this order."
Commenting on the verdict, AAP convener and Delhi Chief Minister Arvind Kejriwal said: Truth has won. People elected by people of Delhi were wrongly disqualified. The Delhi High Court has given justice to people of Delhi. It is the victory of the people of Delhi. Congratulations to the people of Delhi."
The AAP MLAs were disqualified by Chief Election Commissioner AK Jyoti just a few days before his retirement. A retired 1975 batch IAS officer of Gujarat cadre, Jyoti was CEC from 6 July 2017 to 23 January 2018. Many of his decisions as CEC became controversial — one such decision was delay in holding the 2017 Assembly elections of Gujarat. The Opposition alleged that it was done to give time to the BJP governments of Gujarat and Centre to announce populist schemes for the people.
Though BJP won the Gujarat Assembly polls in December last year but its performance was worst in the state in the last quarter century as its tally fellow below 100 in the 182-member Assembly.