GROUND REPORT
Ghazala Ahmad | Clarion India
NEW DELHI — Pooja and Deepa, in their late teens and 12th grade students at Sarvodya Kanya Vidyalaya in Central Delhi's Daryaganj area, dressed up as usual in their neat school uniforms and were all set to leave their homes to write their exam papers on Saturday. But they ended up picking up the scraps of their torn notebooks and other broken stationery as bulldozers arrived at Bela Estate, near Rajghat Bus Depot, early in the morning.
A heavy police force accompanied the marauding bulldozers tasked with clearing the rubble in Moolchand Basti, earlier demolished by the Delhi Development Authority (DDA), leaving hundreds of people shelterless.
"We were already disturbed due to these displacements, couldn't study properly for our exams and now they are not even letting us live on the rubble", said Pooja, who missed her Home Science paper today.
"Many of us missed our exams", she said.
"They demolished our homes first, and now they are removing us from the area as well. Where shall we go now?" she asked dejectedly.
Deepa, her classmate and a friend, said: "My father bought me books and stationery with his hard-earned money and they didn't even give a thought to it before throwing out our belongings inhumanely."
She said: "They want us to move, but where will we go? There is no plan."
Both the girls blamed the Bharatiya Janata Party (BJP) government at the Centre and the state government of Aam Aadmi Party (AAP), for their dire situation. Both the governments, they said, made "huge false promises but all of them proved hallow."
"They say beti padhao, beti bachao (educate the girl and save the girl). It is not for us. They don't consider us daughters of this country as they won't let us study," the girls said.
"Our Chief Minister (Arvind Kejriwal) says they will impart quality education to all citizens. Here we are not even able to attend school, let alone get quality education," Pooja said.
"They (political leaders) only come and make false promises when they need our votes", she said in dismay.
On March 20, a demolition drive was carried out by DDA to clear the shelters wherein nearly 50 houses, belonging to urban agriculturists and dairy workers, were razed. The inhabitants, all from the economically weaker sections of society, were occupying their houses for decades. The entire Bela Estate is home to almost 700 families and now DDA has left no choice than to go homeless in the absence of, as the residents claim, any viable plan to resettle them.
Ganga Devi (45), the owner of a squatter settlement in the area, said: "We had these jhuggi jhopris, now we are roofless. It's raining every day, we don't have a place to settle down. Where should we go now with our kids and our belongings?"
Ganga Devi's husband works as a gardener. He is not being able to go to work because he is scared of the bulldozers which come every other day.
"We are daily wagers. How will we eat, if we don't work? We are not able to earn our bread since this eviction process has started; roads have now become our homes", said Devi.
On behalf of the affected families, Sunil Kumar Aledia, Executive Director of Centre for Holistic Development, an NGO working to provide relief and legal help to those affected by the eviction drives, filed a petition in the high court seeking its intervention to halt the operations.
The petition mentioned that it was the State's responsibility to provide shelter to homeless people. The court junked the petition on March 14.
Aledia told Clarion India: "We verbally requested the DDA authorities who came here to clear up the area to wait and let these people stay until we move the Supreme Court. But they didn't listen and harassed the affected families further."
"We are figuring out a way to get these people settled for now. But we will pursue it legally and will approach the Supreme Court soon", he said.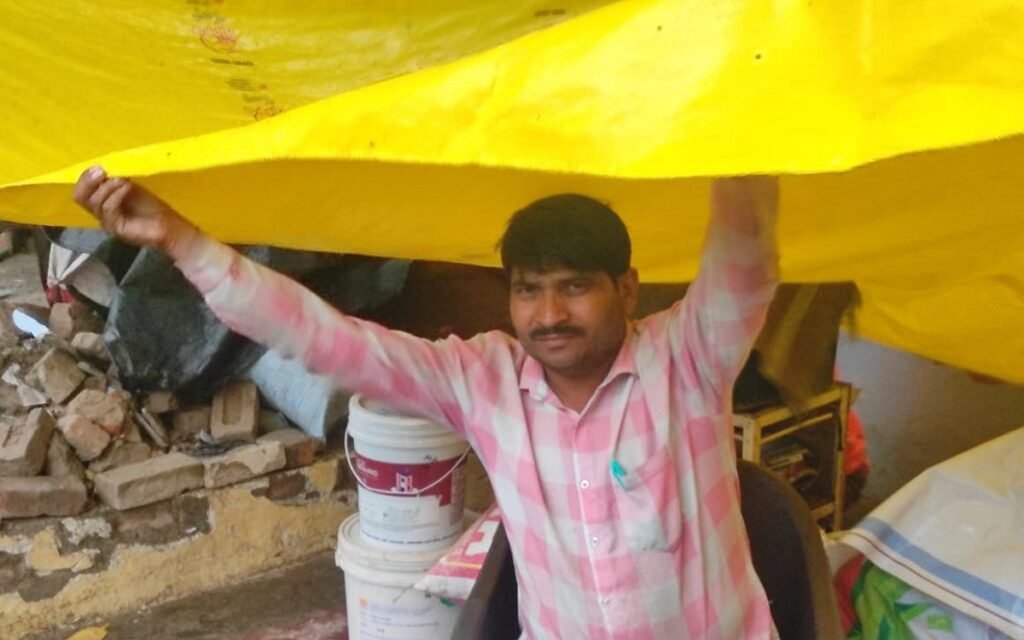 Hira Lal, a painter, blamed Kejriwal government for the displacement and said the Delhi government always boasts of its education model. Is this how Kejriwal is implementing his world-class education policy in Delhi?" he asked
"The Delhi government has failed us", said Lal.
He said that it was the responsibility of the government to look after the livelihood, shelter, food and education of its citizens. Kejriwal government has failed at all fronts".
"When he (Kejriwal) came here to ask for votes, he called himself beta (son) of the poor people. Now where is this beta when his family is on the streets?" he asked.
The apex court, he said, should extend them a chance to explain their position. "We are equal citizens of this country," Lal asserted.
When asked where would they go now, he said: "We have no clue." Clarion India tried to contact V.S. Fonia, Deputy Director of the Delhi Urban Shelter Improvement Board, to confirm his earlier claim that the evicted people have been offered resettlement. All calls to him went unanswered.