Congress held protests against fuel price hike in New Delhi, Tamil Nadu, Gujarat, Punjab, Rajasthan, Kerala, Chhattisgarh, Karnataka and other places
Team Clarion
NEW DELHI — Congress leaders and party workers on Friday held protests at petrol pumps in several parts of the country against the spiralling prices of petrol and diesel, hitting record highs and demanded complete rollback of the excise duty hike on petrol-diesel.
Petrol and diesel prices were hiked again on Friday by 31 paise per litre and 28 paise per litre, respectively.
In New Delhi, several senior Congress leaders including K.C. Venugopal, former Union Minister Ajay Maken, Delhi Congress chief Chaudhary Anil Kumar participated in the protest at several locations in the city.
Delhi Congress chief rode a horse tanga on the capital's streets to mark the protest over the rise in the fuel prices across the country.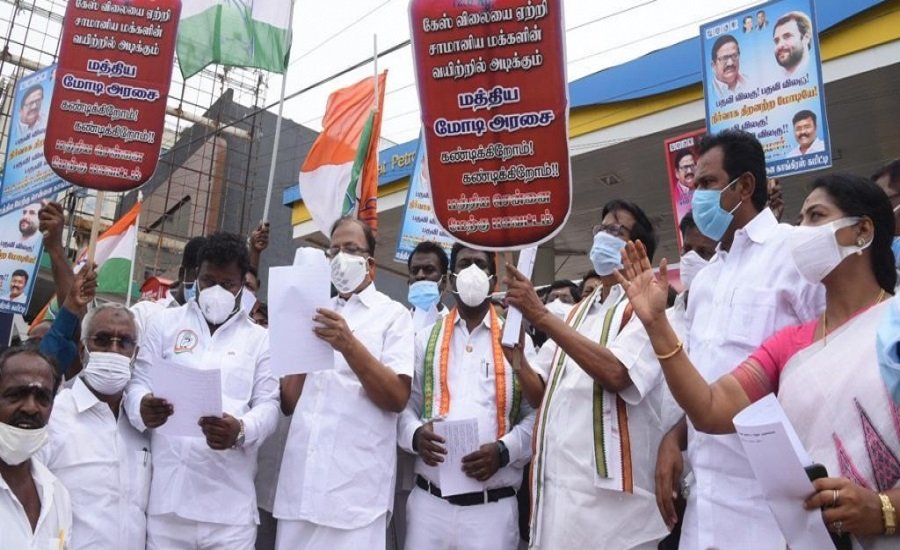 Speaking to media, Venugopal, Congress General Secretary (organisations), said, "When the UPA government was in power, tax on petrol and diesel was Rs 9.20. Now it is Rs 32 and we demand the government to rollback the excise duty hike on petrol-diesel," reports IANS.
"The government should stop imposing excise duty on petrol and diesel. It should come under the purview of Goods and Services Tax. We demand a complete rollback of fuel price hike," said Venugopal.
Former Congress president Rahul Gandhi on Friday tweeted, "GDP crashing, Unemployment soaring, Fuel prices skyrocketing. In how many more ways is #BJPlootingIndia?"
Thiruvallur South President #Mansoor conducts novel protest in Mogappair against Central Government for insensitive Petrol price hike…@Hassan_tnpyc @AbrahamRoyMani @INCTamilNadu @KS_Alagiri @dineshgrao @srinivasiyc @Allavaru pic.twitter.com/vO9cc2bp07

— Tamil Nadu Youth Congress (@TN_PYC) June 11, 2021
According to media reports, Tamil Nadu, Gujarat, Punjab, Rajasthan, Kerala, Chhattisgarh, Karnataka are among the other states that took out protests against the hike in fuel prices strengthening national party's stand.
In Gujarat, more than 100 Congress workers, MLAs and leaders were detained in different areas for protesting without police permission, PTI reports.
Congress Gujarat president Amit Chavda and former state unit chief Bharatsinh Solanki were among those detained, the police said.
The Congress members staged protests in Gandhinagar, Ahmedabad, Bharuch, Rajkot, Palanpur and Vadodara, according to the report.
The Congress also launched a social media campaign to highlight the rising fuel prices. In a tweet, the party said that fuel prices were the BJP's "opportunity to loot" the public, and an act of extortion when international crude oil prices were low.
जब अंतरराष्ट्रीय स्तर पर कच्चे तेल के दाम कम हैं, ऐसे समय में भाजपा का 'लूट का अवसर' देशवासियों के साथ अवैध वसूली जैसा कृत्य है।

भाजपा अपने 'लूट के अवसर' को रोक कर देशवासियों को राहत पहुंचाए।#BJPLootingIndia pic.twitter.com/SRhixd9LJF

— Congress (@INCIndia) June 11, 2021
Petrol prices have crossed the Rs 100 per litre mark in Madhya Pradesh, Maharashtra, Andhra Pradesh, Telangana, Rajasthan and Ladakh.