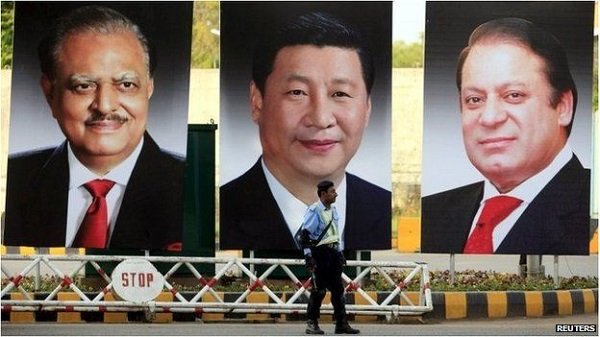 ISLAMABAD – China's President Xi Jinping has arrived in Pakistan, where he is expected to announce investment of $46bn (£30.7bn), reported BBC.
The focus of the spending is on building a China-Pakistan Economic Corridor (CPEC) – a network of roads, railway and pipelines between the two.
They will run some 3,000km (1,865 miles) from Gwadar in Pakistan to China's western Xinjiang region.
The projects will give China direct access to the Indian Ocean and beyond.
This marks a major advance in China's plans to boost its economic influence in Central and South Asia, correspondents say, and far exceeds US spending in Pakistan.
"Pakistan, for China, is now of pivotal importance. This has to succeed and be seen to succeed," Reuters quoted Mushahid Hussain Sayed, chairman of the Pakistani parliament's defence committee, as saying.
Pakistan, for its part, hopes the investment will boost its struggling economy and help end chronic power shortages.
Leaders are also expected to discuss co-operation on security.
Mr Xi will spend two days holding talks with his counterpart Mamnoon Hussain, Prime Minister Nawaz Sharif and other ministers. He will address parliament on Tuesday.
Deals worth some $28bn are ready to be signed during the visit, with the rest to follow.
Under the CPEC plan, China's government and banks will lend to Chinese companies, so they can invest in projects as commercial ventures.
A network of roads, railways and energy developments will eventually stretch some 3,000km (1,865 miles).
Some $15.5bn worth of coal, wind, solar and hydro energy projects will come online by 2017 and add 10,400 megawatts of energy to Pakistan's national grid, according to officials.
A $44m optical fibre cable between the two countries is also due to be built.
Pakistan, meanwhile, hopes the investment will enable it to transform itself into a regional economic hub.
Ahsan Iqbal, the Pakistani minister overseeing the plan, told the AFP news agency that these were "very substantial and tangible projects which will have a significant transformative effect on Pakistan's economy".
Mr Xi is also expected to discuss security issues with Mr Sharif, including China's concerns that Muslim separatists from Xinjiang are linking up with Pakistani militants.
"China and Pakistan need to align security concerns more closely to strengthen security co-operation," he said in a statement to Pakistani media on Sunday.
"Our co-operation in the security and economic fields reinforce each other, and they must be advanced simultaneously."