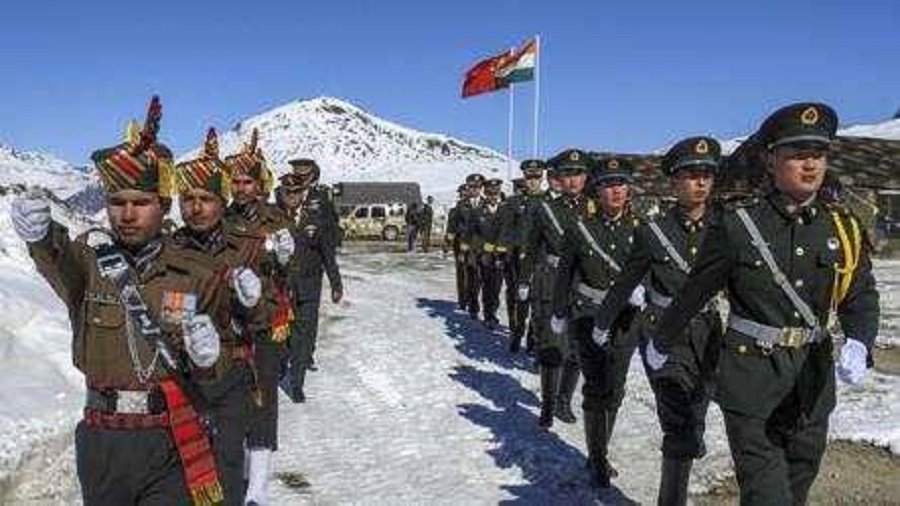 Syed Ali Mujtaba | Clarion India
AS NEWS reports pour in about China disengaging its forces from the Line of Actual Control (LAC), words of former National Security Advisor Shivsankar Menon come in handy. The former Ambassador to China says, China moves two steps forward and then takes one step backward having a net gain of one step each time it withdraws after an ingression on the LAC.
The current disengagement process underway on the LAC is part of the same mindset that India's former foreign secretary was talking about.
In order to understand the Chinese withdrawal, we have to know about differing perceptions of India and China about Ladakh. There are conflicting objectives of the two countries in this region where both have different game plans to checkmate each other. Hence, in order to draw any conclusion, we have to know how India and China look at Ladakh and what they want to achieve by keeping the tension alive.
There was a treaty of Amritsar after the Anglo-Sikh war of 1843 and the victorious British side gave the territory of Ladakh to the Princely State of Jammu and Kashmir. The Princely rulers though held the sovereignty of Ladakh, gave its suzerainty to China that controlled most of Ladakh.
After the merger of the Princely State to the Indian Union, Ladakh became part of the Indian Territory. But there was conflicting claims between India and Pakistan over the territories held by the erstwhile princely state and as a result Ladakh remained a disputed territory even though most of it is controlled by India.
Meanwhile, as the acrimony between India and Pakistan was going on over Kashmir, China still held sway over eastern portion of Ladakh, started building a road from its Xingjian province through the Aksai Chin region of Ladakh to connect it to Tibet. This was because ever since it occupied the region in 1949, China faced resistance to the occupation and wanted to ferry its troops to Tibet to quell the uprising there.
India protested construction of the road claiming that Aksai Chin is Indian Territory. India's protest was also due to the fact of its loss of a gateway to Central Asia to Pakistan after the Partition of India, in 1947, and Aksai Chin was the only way India could get there.
Equally, the Aksai Chin region was important to China because it connected its Xinjiang province with its Tibet autonomous region. The road joining Tibet with Xinjiang through Aksai Chin served it as a lifeline to control Tibet.
China ultimately went ahead and completed the road in 1957 much to the chagrin of India.  This led to open confrontation between India and China and the situation deteriorated so much so that it led to the Sino-India War of 1962.
At the war, China took control of about 38,000 square km of territory of Aksai Chin that India claimed to be its own before declaring a unilateral ceasefire and the boundary which emerged between India and China came to be known as Line of Actual Control (LAC). The LAC is a military held line which remains un-demarked, with both India and China having different perceptions about it.
As per the ceasefire agreement, the two neighbours moved back its troops to some 20 kilometers from the LAC. However, since then both have moved forward from those agreed positions. Both are building permanent infrastructure to feed their forward positions. As a result, both feel vulnerable and trespass each other's territories with regular interval thus escalating tension along the LAC.
Since the very beginning, China has not recognised India's claim over Ladakh. It views the region as a disputed territory between India and Pakistan. It wants an early resolution of the Kashmir problem for settlement of its border with Ladakh.
The country, which held suzerainty over Ladakh before India's independence, wants India and Pakistan to involve it in the settlement of its territorial dispute. It debunks India's claims to a 1,597 km border in Ladakh. It claims that it shares only 2,000 km border with India minus Ladakh, contrary to India's claim that it has 3,488 km border with China.
China also has objections to India unilaterally carving out a Union territory of Ladakh on August 5, 2019. It calls it a violation of its 1962 ceasefire agreement as it has changed the character of the region. It even has taken up the matter with the United Nations.
India's objective in Ladakh is to maintain its military supply line to its Sub-Sector North in Eastern Ladakh, comprising Depsang Plains and Daulat Beg Oldie (DBO) air field. To achieve this objective, it has constructed 220-km long Darbuk-Shyok-DBO Road that connects Leh with the DBO post. The road built by India traverses close to the LAC with China.
The 220-km long road reduces the travel time for Indian military convoy from 2 days to 6 hours to reach DBO from Leh. The DBO air field is used to further maintain supply lines to the Siachin and the Kargil outpost, where Indian troops are deployed to watch and ward the country's borders.
Further, the DBO air field is some eight kilometers from Karakoram Range across which China-Pakistan Economic Corridor is under construction. India has a claim over those areas under Pakistan and Chinese occupation. India's claim is based on the premise that those areas belonged to the erstwhile Princely state of J&K and has become Indian Territory after its merger.
The construction of Darbuk–Shyok-DBO Road has made the China's CPEC project vulnerable as India can use DBO air field to launch air strikes on the CPEC.
Further, the Darbuk–Shyok-DBO Road passes through Galwan valley and a link road from it can take India's military convoy to Aksai Chin in the shortest possible time. In order to accomplish all these objectives, India has made Ladakh its Union territory on August 5, 2019. It has started massive construction work to protect its positions on the LAC.
These Indian developments on the LAC have not been liked by China. The Chinese objective is to block India from achieving any of its objectives. It game plan is to get into the Indian side of the LAC making forcible intrusion at different points taking advantage of the un-demarcated LAC. It's with these objectives China is pushing the LAC boundary to its own advantage.
Hence, China has intruded at different border locations of Ladakh; Depsang Plains, Lukung Lake and Shyok & Chang- Chenmo River, Hot Springs Durbuk etc. It has constructed permanent military structures to these places to maintain its military supply line to these forward locations.
The neighbouring country has gone further to dominate the peaks from DBO to Pangong Lake heights, a distance of about 157 kilometers. These heights run parallel to India's Darbuk–Shyok-DBO Road and now remain under the shadow of Chinese guns.
The famous Pangong Lake is one of the flash points between India and China. The lake itself does not have any strategic significance, but it lies in the path of the 'Chushul' which is one of the five officially agreed Border Meeting points between two countries. Chushul has an airfield that India can use for any offensive against China.
In order to neutralise any such Indian designs, China has taken control of the heights overlooking the Pangong Lake. It controls mountain spurs called fingers from 8 to 4.  This control of vantage positions has boosted China's capability to strike at the Chushul airfield at will.
Similarly, China has now occupied Galwan valley and has positioned itself at striking distance to Darbuk–Shyok-DBO Road and can block the Indian military convoy going to sub-sector north anytime. The Chinese by occupying the Galwan valley have further blocked the Indian troops moving to Aksai Chin region in eastern Ladak.
Further, in case of India-China flare-up, if India launches any air operation from DBO air field, China can use its electro-magnetic spectrum capabilities and neutralise these aircrafts. Further, by dominating the heights in Ladakh, China can use anti-aircraft guns or missiles placed at vantage points to neutralise the Indian air power.
In addition to all this, China has kept its nuke warheads positioned in Tibet overlooking Ladakh. It has kept two lakh soldiers in Tibet and has created a habitat and ecosystem for them. The PLA is kept war ready and can be deployed at the LAC within hours.
The recent clashes that broke out in May and June was Chinese game plan to use its military coercion to make India understand that it has achieved its military objectives in Ladakh without firing a single bullet.
The bottom line of the skirmishes with India is that China has deftly nipped in the bud any Indian ambition to use its military might to take over Aksai Chin or venture across the Karakoram Range. It has established it's redlines that India will find hard to transgress. The de-escalation process which is currently underway is all about cooling down the temperatures even as this story has played itself out.