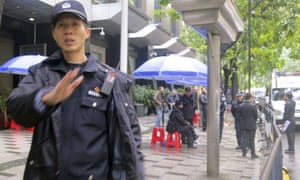 (AFP): A Chinese court sentenced three activists to prison on Friday for allegedly attempting to start a non-violent civil rights movement, campaign groups said, the latest example of the Communist party's intensifying crackdown on dissent.
Tang Jingling received a five-year sentence, while Yuan Xinting and Wang Qingying were given three-and-a-half and two-and-a-half-year terms respectively, Amnesty International said.
The conviction for "inciting subversion of state power" was handed down by the Guangzhou intermediate people's court, the London-based group said.
Campaigner Patrick Poon said the verdict was a "gross injustice". The men's "peaceful and legitimate work never threatened state security, this is solely about the authorities arbitrarily silencing government critics", he said.
The Communist party does not tolerate anythingit perceives as a potential threat to its rule, and dozens of activists have been imprisoned since president Xi Jinping took office two years ago.
The Guangzhou trio distributed books about non-violent resistance and "wilfully incited the subversion of state power and the overthrow of the socialist system", police said.
They added in a statement to prosecutors, posted online by the activists' lawyers, that they had rented an office to study, print, and mail several books including one titled On Strategic Non-violent Conflict: Thinking about the Fundamentals.
They were also accused of disseminating "From Dictatorship to Democracy" by Gene Sharp, an expert on non-violent social movements.
The books "have been confirmed to have serious political transgressions", police added.
The trial in July came as China's state security detained or called in for questioning more than 200 human rights lawyers and activists, in what analysts have called one of the biggest crackdowns on dissent in years. Several were formally arrested on subversion charges two weeks ago after being held in secret for six months.
Sophie Richardson, China director for US-based Human Rights Watch, said on Friday: "The sentences for Tang, Yuan, and Wang don't bode well for the more than a dozen human rights lawyers likely to stand trial soon for similar 'subversion' charges."
"The Chinese government needs to stop equating peaceful criticism with subversion if it is to make any progress towards respecting rights."
Tang, 44, was himself a prominent human rights lawyer who had helped farmers take local officials to court over claims of illegal land seizures.
He announced the founding of a small-scale "non-violent civil disobedience movement" in 2006, according to US-based group Human Rights in China.