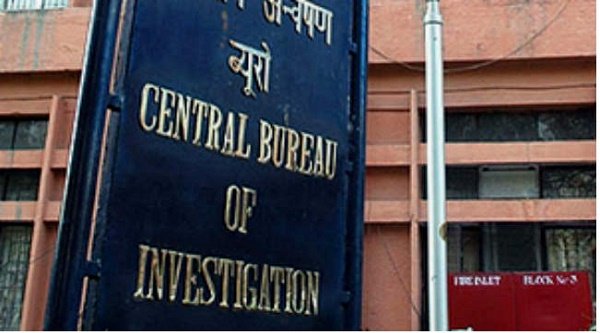 The premises of two top opposition leaders, P. Chidambaram and Lalu Prasad, were raided by CBI and IT officials with Karti Chidambaram accused of getting pay-offs for helping a media company get FIPB clearance, while the former Bihar Chief Minister was accused of "benami" land deals — actions the opposition denounced as vendetta by the BJP-led central government.
NEW DELHI/CHENNAI/PATNA (IANS) The premises of two top opposition leaders, P. Chidambaram and Lalu Prasad, were on Tuesday raided by CBI and IT officials with Karti Chidambaram accused of getting pay-offs for helping a media company get FIPB clearance, while the former Bihar Chief Minister was accused of "benami" land deals — actions the opposition denounced as vendetta by the BJP-led central government.
The day began with raids by the Central Bureau of Investigation in New Delhi, Chennai, Gurugram and Karaikudi in Tamil Nadu, while the Income Tax raided 22 locations in Delhi and Gurugram on a number of premises said to be owned by Lalu and kin.
The CBI raided the residence of Chidambaram and his son Karti in Nungambakam in Chennai, after registering an FIR on Monday night in which it was alleged that his son could have benefited to the tune of Rs 3.5 crore for helping in the clearance of an FIPB proposal of media company INX Ltd when his father was at the helm in the North Block.
The CBI FIR alleged that invoices for approximately Rs 3.5 crore were raised by the INX Ltd in favor of companies in which Karti was having "sustainable interests" either directly or indirectly.
The FIPB clearance was given to Mumbai-based INX Media (now called 9X Media) when it was run by Peter and Indrani Mukherjea, and Chidambaram was then the Finance Minister.
The FIR does not mention the name of Chidambaram, though it states that he had cleared the Foreign Investment Promotion Board (FIPB) approval for Rs 4.62 crore Foreign Direct Investment (FDI) in the FIPB meeting on May 18, 2007.
Both Chidambaram and his son denied there was any misconduct on their part and said the whole action was aimed at "muzzling" the voice of Chidambaram senior, who has been writing against the NDA government.
Karti said he had committed no crime and the case against him was foisted on account of political vendetta.
Chidambaram said FIPB clearance is given in hundreds of cases and there is no allegation against officials, who are members of the FIPB, or against him.
Besides Karti, those named in the FIR include INX Director Indrani Mukherjea and her husband Peter Mukherjea, both accused in the Sheena Bora murder case, and some unknown officials of the ministry.
In the other case, the Income Tax Department conducted raids at 22 places in and around Delhi in connection with alleged "benami" property deals allegedly to the tune of Rs 1,000 crore involving RJD chief Lalu Prasad.
Besides the Rashtriya Janata Dal supremo, the IT raids were also carried out on the premises of party MP P.C. Gupta's residence as well as several businessmen and real estate agents in Delhi and Haryana's Gurugram and Rewari.
The raids started around 3 a.m. on Tuesday, in which over 100 officials were involved.
Income Tax officials also searched over 10 premises of some government officials.
The IT Department's action comes in the wake of the allegations made by former Bihar Deputy Chief Minister and senior BJP leader Sushil Kumar Modi.
Sushil Modi has accused Lalu Prasad and his children – Bihar Deputy Chief Minister Tejashwi Yadav, Health Minister Tej Pratap Yadav and Rajya Sabha Parliamentarian Misa Bharti – of being involved in corrupt land deals.
Bihar Chief Minister Nitish Kumar on Monday said if there was documentary proof or solid evidence against the RJD chief and his family then the central government should take legal action.
Union Law Minister Ravi Shankar Prasad had earlier alleged that the RJD chief's daughter Misa Bharti has not disclosed these assets in her election affidavit and demanded that the Election Commission take action against her.
The BJP leader also alleged that the land deals were done during Lalu Prasad's tenure as Union Railway Minister in the United Progressive Alliance (UPA) government.
Following the IT raids, Sushil Kumar Modi told the media in Patna that his stand has been "vindicated".
Senior RJD leader and former Union Minister Raghuvansh Prasad Singh said the IT raids are part of the BJP's political vendetta against rivals. "BJP has been conspiring against Lalu Prasad for his vocal criticism and his bid to unite all non-BJP parties ahead of the 2019 general elections," Singh said.
More than a dozen senior RJD leaders have visited Lalu Prasad at 10, Circular Road, his official residence, in high security zone, not far away from Chief Minister Nitish Kumar's official residence in Patna, since Tuesday morning after the IT conducted raids.
Reacting to the raids on Chidambaram and his son, the Congress said: "The truth is that revenge has become a DNA of the BJP. Neither Chidambaram nor any Congress leader or any other leader of opposition will be deterred, would be cowed down or would fear the politics of revenge and vendetta."
Party spokesperson Randeep Surjewala said the BJP and Prime Minister Narendra Modi had failed to take action against its leaders such as Madhya Pradesh Chief Minister Shivraj Singh Chouhan in the Vyapam scam, and Rajasthan Chief Minister Vasundhara Raje and External Affairs Minister Sushma Swaraj, who allegedly helped former cricket administrator Lalit Modi leave the country.
"The entire landscape of BJP is mired by one scam after another. If yardstick is morality then why is he (Modi) shying away from ordering an inquiry into the Sahara-Birla Computer Excel sheets, in which none other but the Prime Minister himself has been named repeatedly about having taken bribe," Surjewala said.
Modi regime creating intolerance across nation: Congress
Meanwhile the Congress attacked the Narendra Modi government for its failures during the past three years and said that an "atmosphere of intolerance" is being created across the country.
"This government weaved a dream of bringing 'Acche Din' and doing something new when it came to power in 2014," Congress leader Jyotiraditya Scindia said at a press conference here.
"Instead of bringing the 'Acche Din', they shattered the dreams of 125 crore people of the country," he said.
"There is an environment of intolerance in the country, and if anyone raises his/her voice or debates it, then they are branded anti-nationals," Scindia said.
Scindia also accused the government of forcing on the people to what to learn, what to read, what to eat and what to wear.
"This government is trying to push its policies based on a regimented thinking," the Congress leader said, adding that under this regimented thinking it formed anti-romeo squads and harassed people.
He said an "anti-Dalit kind of atmosphere is being created in the country", where this government calls a session to celebrate the Ambedkar Jayanti, and hold a programme in Mau, Uttar Pradesh, and in London.
"But on the other hand, their people are harassing the Dalits across the country everyday," he said.
"From my state (Madhya Pradesh) 50 people belonging to the Dalit community have expressed their desire to die," he said.
"Big programmes are organised for them, but the Prime Minister (Narendra Modi) wants Dalit-Mukt and Adivasi-mukt Bharat," he alleged.
"The death of Rohith Vemula and the beating of four Dalits in the name of protecting cows in Gujarat's Una are a stigma on our society," he said.
"And their leaders and ministers define these incidents as good for the society," he added.