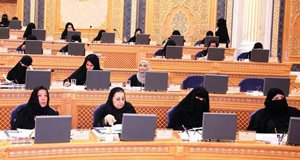 WOMEN MEMBERS OF SHOURA COUNCIL MEMBERS BACK THE CAUSE
By Ibrahim Nafee
JEDDAH — Three women members of Saudi Shoura Council have recommended that the ban on women driving in the Kingdom be lifted. According to one council member, Latifa Al-Shaalan, she and two fellow council members, Haya Al-Mani and Muna Al-Mashit, filed a recommendation urging the Kingdom's top consultative body to "recognize the rights of women to drive a car in accordance with the principles of Shariah and traffic rules."
They raised the issue during the Shoura Council's review of a Ministry of Transport report.
"There is no law that bans from driving. It is only a matter of tradition," Al-Shaalan told AFP.
Saudi women have "made many achievements … and have acquired leading positions in the government and the UN, yet they are banned from driving. This creates a negative image (for the Kingdom) abroad," she told the wire service.
Feriyal Al-Kinj, a Saudi lawyer, told Arab News: "Laws must be put in place to protect female drivers against youth who may bother them." Al-Kinj also said the government must ensure that women can drive safely.
"The government has to create an environment that is conducive to women driving, which includes special driving schools," she said. "There must also be female traffic police."
Al-Mani said that Article 8 stipulates that all people, regardless of gender, are equal under the law and that human rights are protected.
"Women are not excluded from obtaining driver's licenses under the nine requirements for traffic regulations," Al-Mani said.
"It is unfortunate that while women cannot drive cars, they have obtained the rank of minister and become Shoura Council members. For a woman to use a car, she has to employ a foreign driver at about SR3,300 a month. This is a financial burden that many families cannot afford."
There was silence from the council's other 120 members when they made the recommendation.
Abdullah Al-Asheikh, president of the council, responded to the recommendation by saying the topic raised by the three members "has nothing to do with the subject we are now discussing, which is the report drafted by the Ministry of Transport."—Arab News