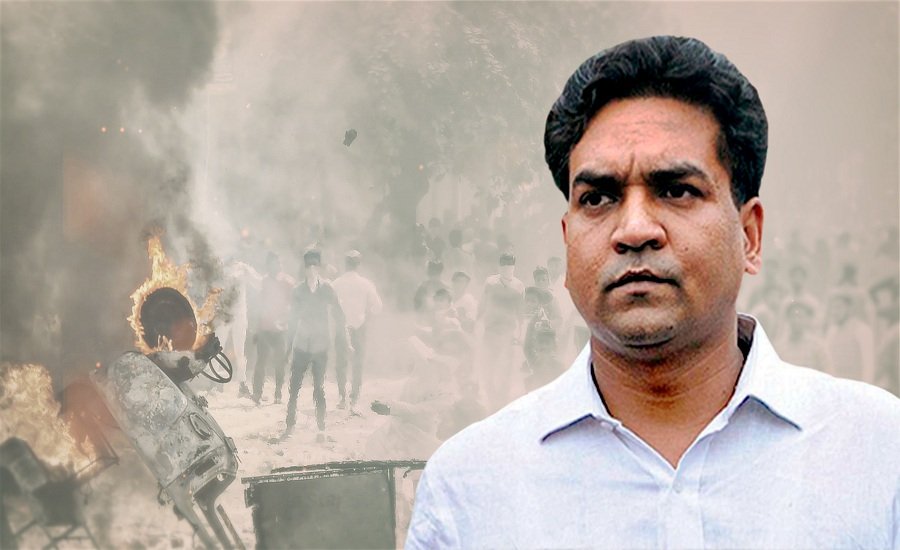 Twitterati asked Bloomsbury to explain how it could associate itself with a person who they said was responsible for instigating his supporters to resort to mob violence against Muslims in north-east Delhi
Clarion India
NEW DELHI – Following a barrage of criticism, publishing house Bloomsbury India has withdrawn publication of their new book, Delhi Riots 2020: The Untold Story by Advocate Monica Arora, Sonali Chitalkar and Prerna Malhotra.
The decision came as news of a virtual pre-publication launch with controversial Bharatiya Janata Party (BJP) leader Kapil Mishra as 'guest of honour' triggered a storm on social media with twitterati even accusing the leading publishers of furthering a communal agenda.
A statement issued by the Indian branch of the British publishing house said, "Bloomsbury India had planned to release Delhi Riots 2020: The Untold Story in September, a book purportedly giving a factual report on the riots in Delhi in February 2020, based on investigations and interviews conducted by the authors. However, in view of very recent events, including a virtual pre-publication launch organised without our knowledge by the authors, with participation by parties of whom the Publishers would not have approved, we have decided to withdraw publication of the book. Bloomsbury India strongly supports freedom of speech but also has a deep sense of responsibility towards society."
Earlier, an unnamed representative of the publishing house had also told Newslaundry, a digital media portal, that they were not informed about the event, the virtual pre-publication launch, and the logo was used for the event without their knowledge.
As word spread that the book was based on the recent riots in Delhi and that the online launch would be attended by Mishra, film director Vivek Agnihotri, OpIndia editor Nupur J Sharma and the authors, a storm erupted on social media with netizens fuming over the inclusion of Mishra as 'guest of honour'.
Sharing information about the launch of the book, Mishra had tweeted, "The book is public now. India and the world will read it and know the truth of anti-Hindu Delhi riots. No hate campaign and propaganda machinery can stop the truth from coming out."
The poster of the event also had a logo of Bloomsbury India.
Twitterati asked Bloomsbury to explain how it could associate itself with a person who they said was responsible for instigating his supporters to resort to mob violence against Muslims in north- east Delhi.
Kapil Mishra will be the guest of honour tomorrow at the launch of a book called Delhi Riots 2020: The Untold Story pic.twitter.com/pmxANQOVBG

— Rahul Sabharwal (@rubberneckin) August 21, 2020
On February 23, Mishra gave a speech to a crowd of his supporters in the presence of a top police officer in Delhi asked the police to take action against the women who were holding a protest sit-in against the Citizenship (Amendment) Act (CAA). He warned the police that if they failed to do so, he and his supporters would take the matter in their own hands to clear the sit-in.
Publisher @BloomsburyIndia is releasing a book which seeks to blame minorities for the Delhi Pogrom.

Nupur Sharma of OpIndia & CRIMINAL KAPIL MISHRA OF BJP are guests of honor at the release.

An int'l publishing house openly pushes sanghi communal agenda. #BoycottBloomsbury pic.twitter.com/zrbcJqhyra

— Saket Gokhale (@SaketGokhale) August 21, 2020
Hours after his speech, large-scale violence erupted on the streets of north-east Delhi and continued unabated for three days. Over 50 people, mostly Muslims, were killed by rampaging mobsters who also set fire to hundreds of homes and shops, leaving thousands homeless.
Both Sharma and Agnigotri are also actively engaged in conversations aimed at discrediting Muslim and left-leaning activists and intellectuals.
The book seems to peddle the same right-wing and police theory—that the violence was the result of a conspiracy by activists who were coordinating the protests against the CAA. This is corroborated by a tweet by Arora who said the book was an account of "how the Jehadi-Naxal lobby planned and executed Delhi riots".
This narrative has been questioned by a series of fact-finding reports which say that the narrative is being pushed by right- wing forces and the Delhi police to frame the anti-CAA activists in cases and also malign their protest movement.
Prominent people on Twitter lashed out at Bloomsbury for its association with people like Mishra responsible for inciting violence and thereby legitimising hate and violence. They had assumed that it was Bloomsbury that was organising the book launch or had invited Mishra to it.
@BloomsburyBooks do you know that @bloomsburyIndia
has published a book on the Delhi 2020 riots that places the blame on the victims? It criminalises the muslim community and seeks to dog whistle to the hindu majoritarian politics currently in India.

— Persis Taraporevala (@persistara) August 21, 2020
The literary world must take a stand. This is not about Cancel Culture. This is about defending literature from fascism. This is about standing up against religious divide, hate speech, islamophobia and false history. @BloomsburyBooks

Thank you @persistara for bringing this out

— meena kandasamy || இளவேனில் (@meenakandasamy) August 21, 2020
Meanwhile, the publishing house announced on Twitter that it was holding a discussion between Agnihotri and Priyadarshani Patwa on his book #whokilledShastri. The poster describes him as "Public Intellectual".
Interestingly, as the debate ensued, Bloomsbury wrote a tweet about the book on Shaheen Bagh by journalist Zia us Salam. People said it was a balancing act to douse the flames.
Bloomsbury plugging a shaheen bagh memoir from last month to balance the outcry over that sanghi book kapil mishra will be launching tomorrow. Paise toh dono se milenge bhai 🤑😈 https://t.co/jIdUgP5Hx9

— Muhfat ™ (@kjshikhar) August 21, 2020