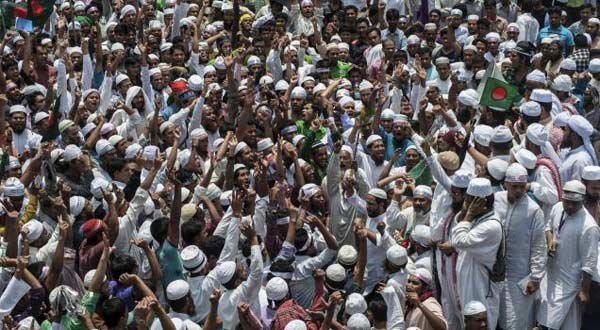 DHAKA, Feb 17 – A key Bangladesh opposition party has denied any link with a recent "Al Qaeda threat" to wage an intifada in the country.
Former prime minister Khaleda Zia's Bangladesh Nationalist Party (BNP) has also slammed the government for what it called ploy to serve its vested interests by capitalizing on the Al-Qaeda threat.
"This is a ploy of the government to obtain US favour after the farcical Jan 5 parliament elections, which the international community rejected," Xinhua quoted BNP spokesman Mirza Fakhrul Islam Alamgir as telling journalists Monday.
He said the government was trying to tarnish the image of the BNP at home and abroad to hang on to power after holding the one-sided elections last month.
Alamgir's remarks came after Prime Minister Sheikh Hasina's Awami League (AL) pointed finger at the BNP and its key ally Bangladesh Jamaat-e-Islami party, and said they are friends of the global terror network.
A number of ruling party lawmakers Sunday night linked in parliament the BNP-led alliance with an audio message said to be from the global militant organisation.
"BNP and Jamaat are allies of Al Qaeda," senior Awami League leader Sheikh Fazlul Karim Selim said in parliament.
"This is not merely illogical and false, but also funny," BNP spokesman Alamgir said.
Before the investigation was completed into the authenticity of the audio message by Al Qaeda chief Ayman al-Zawahiri, Alamgir said the ruling party leaders started to cook false stories to mislead Bangladesh people and international community.
"The government is trying to establish connection between the Al Qaeda and the opposition parties to gain favour from the US and many other foreign countries."
The BNP's key ally Jamaat has also denied the allegation.
The audiovisual message purported to be from the Al Qaeda chief has made a plea to Muslims in Bangladesh to wage an intifada (uprising) to confront the "crusader onslaught against Islam".
Posted on jihadology.net in the middle of January this year, the message alleged that thousands of people were being killed in the streets of Bangladesh for protesting the "collusion of the anti-Islam secular government with a bunch of transgressing secularists". — IANS