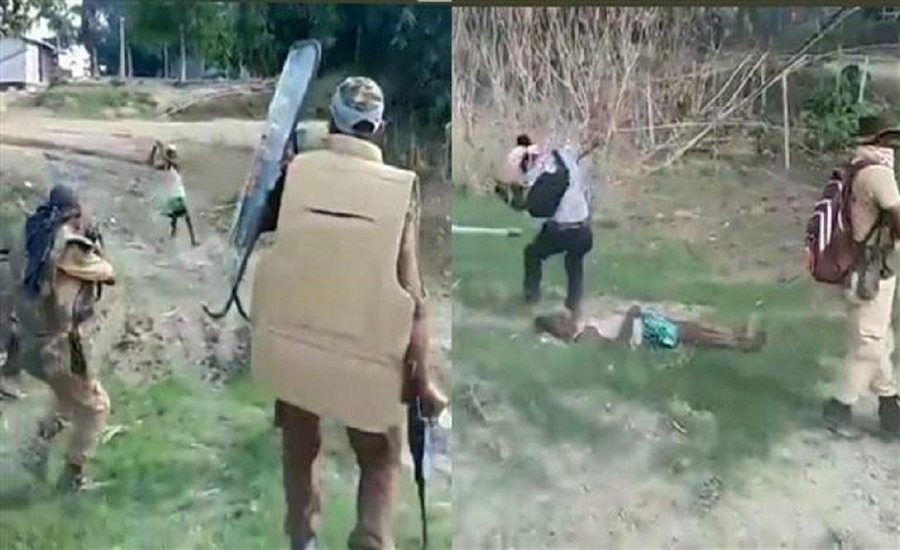 Hate has assumed the proportions of a mental illness and has transformed people into monsters
A F KIRMANI | Clarion India
AS I write this, a viral video from Darrang district of Assam is creating a massive outrage in the state as well as on social media. In the video that starts with the sound of shots being fired, a thin emaciated looking man could be seen running towards a group of armed policemen with a stick in his hand. A few seconds later the man is surrounded by the police and shot in the chest.
The man is now dead – shot and killed when he could have very well been overpowered and arrested. Are we to believe that more than a dozen armed policemen felt so threatened by a stick wielding man that killing him was the only viable option for them? Of course that is not true. The sight of a desperate man with a stick doesn't scare the police out of their wits. They did what they did in order to subdue the anti-eviction protests by inducing terror among the people being made homeless by the state. Their eviction case is pending in the High Court, but when have fascist states concerned themselves with such legal niceties?
The police had already been firing shots (as heard at the beginning of the video) when the now slain man, Moinul Hoque came running towards them. To think of it, why would anyone charge at a trigger happy force with nothing more than a stick in his hand? No one would do that unless absolutely everything he has is at stake. On social media he is being called a jihadi, a naxalite, a terrorist. What kind of a jihadi terrorist defends his home and family with a stick? Hate and prejudice really twists people's brains in an unfortunate manner, depriving them of reason, common sense as well as basic humanity. The depravity that hate creates in people's minds manifested itself seconds after Moinul Hoque was shot by the police.
To viewers' utter shock the video shows the photographer accompanying the police jump on the man who had now fallen to the ground. No one knows if the police bullet had killed Moinul Hoque immediately or was it the brutal thrust of photographer Bijay Shankar Baniya jump on his chest that speeded his death.
Baniya's job at the scene had been only to take pictures. There is no possible explanation for his monstrous behaviour except that seeing a helpless and injured (or dead) man he felt emboldened and all the hate he had been holding within himself came tumbling out. What kind of man jumps on an injured or dead person? None except a coward with a pathological level of hatred in him. Indeed, hate has assumed the proportions of a mental illness and has transformed people into monsters. Baniya's hateful cowardly jumps that will go down in history as perhaps the ugliest manifestations of inhumanity are unfortunately not an exception. Lynchings are now an everyday affair. People are being killed – crushed, smashed and dragged to death at a greater frequency now than recorded ever before.
In a society rife with such monsters and their enablers and supporters and almost no system in place to tackle them, the sitting ducks can do little except to wait for their own turn to become a prey to one of them one day.
___________
A F Kirmani is a Hyderabad-based writer. She tweets at @TawakkkalAllah