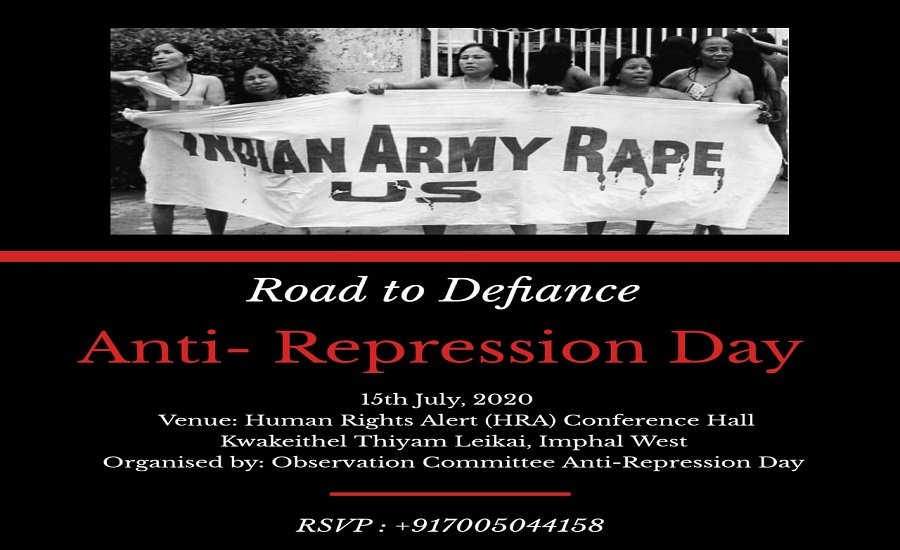 Clarion India
NEW DELHI – People of Manipur on Wednesday remembered the 12 'mothers' of Manipur who on this day sixteen years back had to strip naked as part of a protest at historic Kangla Fort. This had happened on July 15, 2004 in the wake of custodial rape and murder of Thangjam Manorama in the most inhumane way. She was arrested by personnel of 17 Assam Rifles on 10 July 2004 and her lifeless corpse was found lying in a hill-side with tell-tale signs of brutal sexualised torture.
For their acts of defiance against military atrocities, the 12 protesting women – considered as 'mothers' – are honoured every year on this day. Since 2017, July 15 is observed as Anti-Repression Day in Manipur. On Wednesday, Human Rights Alert (HRA) organised a meeting in Imphal in which several activists and scholars paid rich tributes to the brave women who had challenged the might of the powers that be. They also remembered the gruesome incident which still awaits justice. The two-hour long programme was shown live on Facebook.
The relocation of 17 Assam Rifles Battalion from Kangla Fort in the aftermath of the protest was hardly anything but a mere symbolic act by the Indian government, the speakers said. They highlighted the facts that the much-abused Armed Forces Special Powers Act, 1958 (AFSPA) remains intact in Manipur, except for a small area under Imphal municipality.
Despite identifying the perpetrators and establishing vivid details of gruesome rape and murder of Thangjam Manorama by the Commission of Inquiry established by the Government of Manipur, the perpetrators are still in active service without any accountability. There is still no political will to do away with the legal immunity enjoyed by the armed forces of the Union under AFSPA.
In a statement issued on the occasion, the Observation Committee of the Anti-Repression Day said, "Even the CBI investigation conducted on the behest of the Supreme Court of India in the Extrajudicial Execution Victim Families Association, Manipur v/s Union of India has not indicted a single army personnel. India has also adamantly not ratified the UN Convention against Torture (UNCAT) even though it became a signatory in 1997.
"Two mothers, out of the twelve who participated in the Kangla protest, have already passed away without seeing justice delivered. Fear looms among the remaining mothers of not witnessing that truth triumph in their lifetime.
However, despite their demands remaining unfulfilled for nearly two decades, the protesting mothers still stand firm on their struggle for justice in Manipur. In honouring the mothers and memorializing the collective pain caused by atrocities under AFSPA, the Observation Committee, Anti-Repression Day along with other civil society groups reaffirm its stand and join hands urging for repeal of AFSPA."