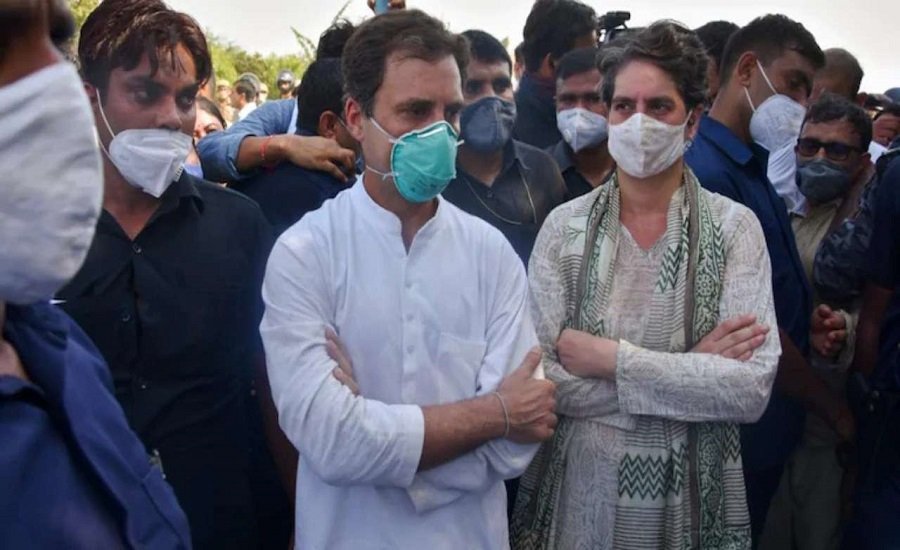 'Nothing in the world can stop me from going to Hathras to meet this unhappy family to share their pain,' Rahul tweeted earlier in the day
Clarion India
NEW DELHI – The Uttar Pradesh government on Saturday allowed Congress leaders Rahul Gandhi and Priyanka Gandhi along with three others to proceed to Hathras to meet the family of the 19-year-old woman whose rape, murder and forcible cremation has triggered widespread protests across India.
This was the Gandhis' second attempt to meet the bereaved family. On Thursday, their attempt had ended with a scuffle with the police and brief detention.
Earlier in the day, the Congress leaders were stopped at the Delhi-UP border. Barricades have been installed at the Delhi-Noida Direct (DND) flyway and CrPC section 144 imposed in UP's Gautam Buddh Nagar. Visuals shared online by ANI showed a massive police presence at the toll plaza, leading many to question where the cops were when needed to deal with crimes against women in the state.
Delhi: Congress leader Rahul Gandhi and Priyanka Gandhi Vadra cross Delhi-Noida flyway.

They are en route to #Hathras in Uttar Pradesh to meet the family of the alleged gangrape victim. pic.twitter.com/yk3nQBP501

— ANI (@ANI) October 3, 2020
On Thursday, Rahul Gandhi was pushed to the ground by Uttar Pradesh Police personnel when he was marching towards Hathras after his vehicle was stopped on the Yamuna Expressway in Gautam Budh Nagar. The Congress leader and his team members were also detained by the Police and a case was registered against them under the Epidemic Diseases Act.
On Sturday, Rahul set out from Delhi at around 2.30 pm, with Priyanka driving a silver Toyota Innova. Rahul was sitting in the front seat alongside her. They were accompanied by around 30 Congress MPs, including Shashi Tharoor. In the morning, Rahul tweeted saying "nothing in the world can stop me from going to Hathras to meet this unhappy family to share their pain." And Priyanka told ANI news agency: "If not this time, then we will try again".
Hathras Joint Magistrate Prem Prakash Meena told ANI earlier in the day Rahul would not be allowed to enter the village, access to which has been cut off by the state government, citing ongoing investigations and concerns over the Covid virus spreading. "They are violating Section 144 (orders banning large gatherings). We are deployed here to control the unlawful assembling of people. We are appealing for peace amid the COVID-19 outbreak," Ranvijay Singh, the Noida Additional DCP, told ANI.
Speaking to IANS, Tharoor said, "It is a terrible incident and we have to show our respect for the girl. Whatever has happened, nothing worse can happen in this country."
On Friday, Priyanka visited Delhi's Valmiki temple to attend a prayer meeting for the girl who died on Tuesday at a government hospital in Delhi.
Priyanka has said that the family of the victim should not feel alone at this point of time.