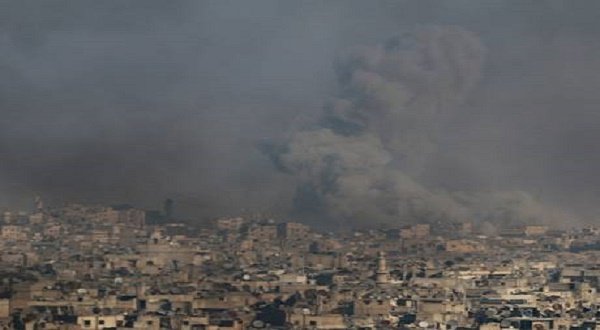 UN General Assembly demanded an immediate ceasefire in a resolution adopted by a strong majority
ALEPPO (AFP) — Syrian warplanes again pounded Aleppo's last rebel-held districts Friday, as the US said American and Russian officials would meet in a bid to save the city from "complete" destruction.
With the fighting resuming after a brief respite, the UN General Assembly demanded an immediate ceasefire and urgent aid deliveries, in a resolution adopted by a strong majority.
US officials will meet Saturday with their Russian counterparts in Geneva to try to stop Aleppo "being absolutely, completely destroyed", US Secretary of State John Kerry said.
He was in Paris for a meeting of foreign ministers, also on Saturday.
Kerry was not upbeat about the chances of success, however, as key regime ally Russia vowed that the assault would not end until rebels leave Aleppo.
"I know people are tired of these meetings, I'm tired of these meetings," Kerry said.
"But what am I supposed to do? Go home and have a nice weekend… while people are dying? Sit there in Washington and do nothing?"
Government strikes had halted briefly from Thursday night, when Moscow announced a pause in the regime offensive to allow the evacuation of civilians, although shelling did not cease.
Syria's army is three weeks into a battle to retake east Aleppo from rebels who are now confined to just a few neighborhoods in their former bastion.
The city's loss would be the biggest blow for the rebels in Syria's nearly six-year-old war, which has killed more than 300,000 people and displaced over half the country's population.
Tens of thousands of civilians have fled east Aleppo in recent weeks, although the United Nations said Friday it had received reports that rebels had blocked some from leaving.
It also expressed concern about reports that hundreds of men had gone missing after fleeing to government-held territory.
The Syrian Observatory for Human Rights, a Britain-based monitor, reported at least a dozen air strikes on rebel-held neighborhoods on Friday afternoon.
Artillery fire had continued throughout Thursday night and into Friday after Moscow's announcement, the monitor and an AFP correspondent in east Aleppo reported.
Bodies in the streets
Syria's army has captured around 85 per cent of east Aleppo, with rebels and remaining civilians confined to a shrinking space in increasingly grim conditions.
East Aleppo has been encircled by the regime since mid-July, with international aid provisions exhausted and remaining food supplies dwindling even before the government assault began in mid-November.
The AFP correspondent said fleeing civilians had seen bodies in the streets of one neighborhood because the intensity of the bombardment made it too dangerous to retrieve the dead.
Repeated talks between Kerry and Russian Foreign Minister Sergei Lavrov this week have failed to halt the violence, although the latter said Friday he hoped a truce deal could be reached soon.
Rebels earlier this week called for a ceasefire and the safe passage of civilians to opposition-held territory elsewhere in Aleppo province.
But Syria's government and Moscow have ruled out allowing rebels to remain in the city, and Lavrov said the plan being discussed envisions disarmed fighters leaving the city with civilians.
Tens of thousands of civilians have already left the east of the city for the regime-held west or districts controlled by Kurdish forces.
In New York, the General Assembly demanded an immediate ceasefire, in a resolution passed by a vote of 122 to 13 in the 193-nation body, with 36 abstentions. Russia, Iran and China voted against.
"This is a vote to stand up and tell Russia and (Syrian President Bashar Al Assad) to stop the carnage," US Ambassador Samantha Power told the assembly ahead of the vote.
"This is a vote to defend the bedrock principles of how states should act, even in war."
Disappearances reported
Earlier Friday, the UN said it had received reports that some armed groups were preventing residents from leaving and that government forces had arrested some of those who fled to regime territory.
"We have received very worrying allegations that hundreds of men have gone missing after crossing into government-controlled areas," UN rights office spokesman Rupert Colville told reporters in Geneva.
Family members had lost contact with the men after they fled opposition-controlled areas of Aleppo around a week or 10 days ago.
The UN had also received reports of civilians in the east being "prevented from leaving" and of reprisals against residents who asked armed groups to leave, Colville said.
Groups including Al-Qaeda's former affiliate had reportedly "abducted and killed an unknown number of civilians who requested the armed groups to leave their neighborhoods".
At least 409 civilians, including 45 children have been killed in the government's assault on east Aleppo launched on November 15, according to the Observatory.
The monitoring group says another 113 people, including 35 children, have been killed by rebel fire on government-controlled west Aleppo in the same period.