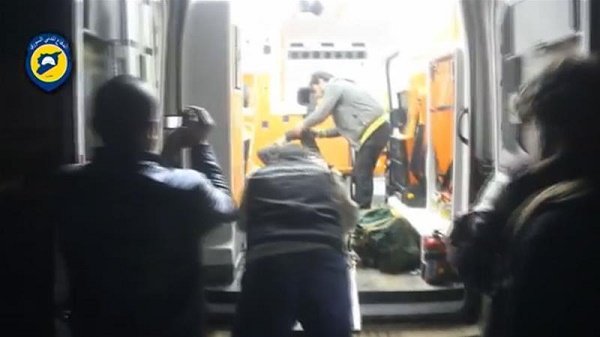 BEIRUT (Reuters) Warplanes struck a mosque in the rebel-held village of al-Jina, in northwest Syria, killing at least 58 people and wounding dozens, the Syrian Observatory for Human Rights, a Britain-based war monitor, said on Thursday.
The jets struck the village, southwest of Atarib near Aleppo, as the mosque was full of worshippers at evening prayer, said the Observatory, which monitors the Syrian war via a network of contacts across the country.
The U.S. military said it carried out an air strike on Thursday against al Qaeda militants, killing several, at a meeting location in Idlib province, but it was unclear if it was referring to the attack on Al-Jina.
The statement from U.S. Central Command made no mention of civilian casualties.
Syrian and Russian military have also carried out many air strikes in Idlib and Aleppo provinces during the war.
Al-Jina is located in one of the main rebel-held parts of Syria, the northwest that includes Idlib province and the western parts of Aleppo province, and its population has been swollen by refugees, U.N. agencies have said.
Rebels in northwest Syria fighting to oust President Bashar al-Assad also include groups supported by Turkey, the United States and Gulf monarchies.
US Denies Bombing Aleppo Mosque
WASHINGTON — Meanwhile IANS reports from Washington that the US military has said it carried out an airstrike on a meeting of Al Qaeda militants in Syria, killing several suspected terrorists and is investigating reports that dozens of civilians were killed in a nearby mosque during the strike.
The US military disputed Syria activists claims that its airstrike on Thursday killed dozens of civilians attending prayers at a Syrian village mosque and said that the strike instead targeted and killed Al Qaeda militants, CNN reported.
The Britain-based Syrian Observatory for Human Rights (SOHR) said at least 42 people were killed in the airstrike on a mosque in the rebel-held village of al-Jinnah in Idlib province.
A senior military official told NBC News that while there was a mosque about 50 feet from its target, the US has photographic evidence that the mosque was not hit and was still standing.
"We did not target any mosques," said Col. John J. Thomas, a spokesman for US Central Command, which has responsibility for American military missions in the Middle East.
"US forces conducted an airstrike on an Al Qaeda in Syria meeting location March 16 in Idlib, Syria," Colonel Thomas said. "Idlib has been a significant safe haven for Al Qaeda in recent years."
He said that it was a "precision strike", which resulted in two large craters.
The US Central Command will look into any allegations of civilian casualties in the area, the spokesman said.
Idlib has been a significant safe haven for Al Qaeda in recent years, the spokesman added.
The SOHR said search and rescue efforts were ongoing at the site and the toll is likely to rise since dozens of people are still buried under the rubble.