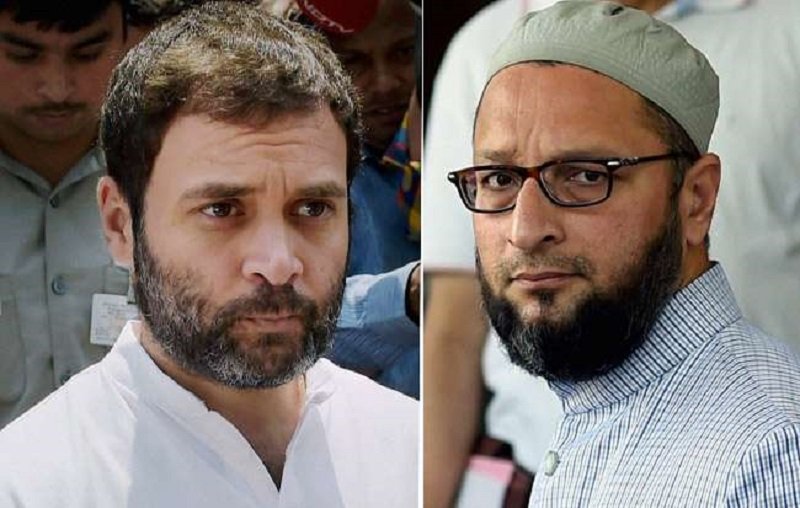 Whatever be the outcome, the AIMIM leader has made his presence felt in Bihar. Congress singling him out at the last moment means he has emerged as a force to reckon with
——-
Clarion India
NEW DELHI — As Bihar's Seemanchal region goes to polls in the third and final phase of Assembly elections on Saturday, all eyes are set on sizeable number of Muslim votes. Among the claimant of these votes is Majlis-e-Ittehad-ul-Muslimeen (AIMIM) of Asaduddin Owaisi. Is he a factor in the crucial phase of voting. Opinion is divided. But the way Congress has attacked him gives him some weight.
Congress Spokesperson Randeep Surjewala, who is camping in the Seemanchal region to oversee the polls, on Thursday termed Owaisi the "B team" of the Bharatiya Janata Party. He said the AIMIM contests on only nine seats in Telangana where it is actually based but when it comes to Bihar it contests on 24 seats in Seemanchal, "which means he is helping BJP indirectly."
"In Telangana, the AIMIM is in alliance with the Telangana Rashtra Samithi (TRS), which supports the BJP and in Bihar it has an alliance with Bahujan Samaj Party (BSP) and Rashtriya Lok Samta Party (RLSP). The BSP has openly announced its support to the BJP", said Surjewala.
Responding to the Congress charge, Owaisi said: "I am used to hearing such things from both the BJP and the Congress. Take my life, but I won't leave Seemanchal. We live in the heart of Seemanchal now."
This is the second time that Owaisi is testing waters in Bihar. During 2015 Assembly election he came to Bihar with a big fan-fare declaring that he would contest on 28 seats. However, at the end Owaisi fielded candidates only in six constituencies. All his candidates lost. A year later, his party managed to win Kishanganj Assembly seat in a by-election.
Will his party be able to improve his performance this time around. Only time will tell.
"No doubt Owaisi is a big crowd-puller. He has been attracting in his public meetings huge crowd, consisting mostly of Muslims. But it is difficult to say how his party is going to convert this into votes," said a senior journalist belonging to Bihar's Seemanchal region.
The journalist, who works with a national Urdu daily and prefers to remain anonymous, said Owaisi is quite popular in a section of Muslims in Bihar. People listen to him with interest as he raises questions which other Muslim leaders rarely address. However, when it comes to vote, Muslims go for "tactical voting", a term used quite liberally in Bihar.
It means every vote counts and it should go to a candidate whose chances of winning against the BJP are certain. Owaisi's party could not get vote in 2015 because Muslims' priority then was to ensure victory of the RJD and its then alliance partner JD(U).
Has the situation for Owaisi changed during the last five years? It's a question that everyone is asking. Last time when he decided to test waters in Bihar, he drew massive attention of friends and foes alike. Urdu press specially gave him big coverage. Muslims looked at him with interest. But when it came to voting he could not win favour of Muslims for obvious reasons.
Apparently once again same sentiment is at play.
Muslims' first choice in this election is Rashtriya Janata Dal of Tejashwi Yadav who is making waves. "They, like others in Bihar, want a change and see a potential in Tejashwi who can unseat an unpopular Nitish Kumar. So a consolidation of vote for RJD is likely to deny AIMIM a chance," said another Patna-based journalist.
In 2015, the AIMIM had gone solo. This time it is contesting in alliance with the Samajwadi Janata Dal (Democratic), Rashtriya Lok Samata Party and BSP. "This improves AIMIM's chance a little bit. This is also a signal by Owaisi that his is not a party exclusively for Muslims," said the journalist who prefers not to be identified.
Whatever be the outcome, Owaisi has made his presence felt in Bihar. Congress singling him out at the last moment means he has emerged as a force to reckon with.