The cancellation came after a number of activists and rights groups expressed their resentment
Zafar Aafaq | Clarion India
NEW DELHI – Following the outrage from activists and rights groups, the World Hindu Council of America (Vishwa Hindu Parishad of America, or VHPA)  has announced the cancellation of an online event where controversial priest Yati Narsinghanand Saraswati, infamous for preaching hate and violence, was supposed to speak.
The VHPA took to Twitter to announce the cancellation while claiming that it was not "formally involved" in the event with Narsinghanand Saraswati.
A supporter of the VHPA had circulated the event flyer and sought to stream it on the VHPA social media channels, without being fully aware of some of the controversial statements made by him. The event was cancelled after VHPA became aware of the aforementioned statements.

— VHP America (@VHPANews) April 14, 2021
The cancellation came after a number of activists and rights groups expressed their resentment over invitation to the priest who has been recently in news for making derogatory remarks against Prophet Muhammad (SAW) and also Shirdi Sai Baba, a saint revered by many Hindus.
Acknowledging the controversial statement of Narsinghanand, a Tweet thread by VHPA said that the event flyer, which went viral,  was circulated by a supporter of the association who sought to stream it on their social media channel. "The event was cancelled after VHPA became aware of the aforementioned statements." (SIC).
Rights groups of Indian origin in the USA had condemned VHPA's decision to invite the hate preacher arguing that it was an attempt to spread Hindu extremism in the country.
"VHPA's invitation of Yati Narsinghanand Saraswati is a clear indication of the spread of HIndu extremism in the US. VHPA is registered as a 501(c)3 nonprofit receiving federal funding, and therefore any attempts by it to contribute to the spread of Hindu extremism needs to be investigated by US authorities", said Dr Shaik Ubaid, co-chair of The Alliance to Save and Protect America from Infiltration by Religious Extremists (ASPAIRE).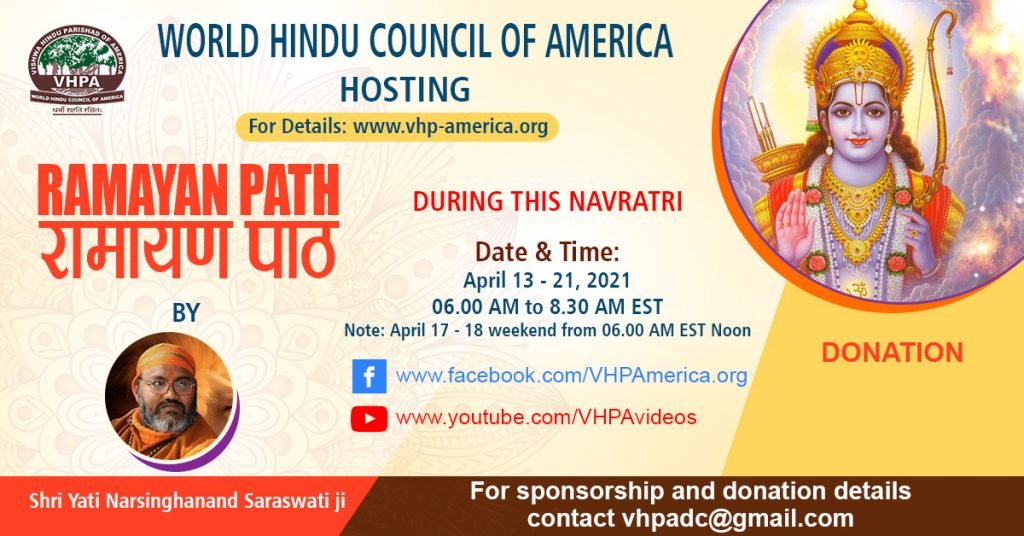 Narsinghanand has recently been in news for supporting a man for beating a Muslim boy for drinking water at his temple. He also made derogatory remarks about Prophet Muhammad at a press conference held at the Delhi Press Club which sparked country-wide outrage.
His remarks have specially angered Muslims who have staged protest demonstrations demanding legal action against him.
The derogatory remarks against Shirdi Sai Baba was followed by an attack on a temple in Delhi  where a man tried to remove an idol of the revered saint.
Though a string of cases have been filed against him in multiple states under serious charges of blasphemy, he is yet to be arrested.  Instead Narsinghanand became emboldened with his vitriol finding platform on TV stations at Prime Time and invitations to speak at events.
"To invite such a person, even if it is only in a virtual meet for their Navratri celebrations is an insult to the religion, its celebrations and to well-meaning Hindus residing in the US," said Vijaylakshmi Nadar, an activist and journalist who is based in New Jersey. "His deliberate derogatory statements against Shirdi Sai Baba who is venerated by both Hindus and Muslims and subsequent attack on a Sai Baba temple in Delhi, was meant only to trigger violence."
Aljazeera recently reported that VHPA was one of the five Hindu right-wing groups in USA linked to RSS which have received $833,000 from government's Covid-19 relief fund. CIA has declared VHP in India a "militant religious organisation".
Lately the Hindutva presence in the US has grown many folds in parallel with the ascension of the right-wing Bharatiya Janata Party to power in India. This has resulted in growing influence of Hindu right-wing in the power corridors in the US. Such Hindu groups have launched aggressive attacks not only on politicians in the US but also academics, who dare question the rising authoritarianism in India, said Nadar.
"This is causing worry for the Hindus and the rest of the Indian diaspora who do not subscribe to the Hindutva ideology and who have not made any claims to Hinduphobia."