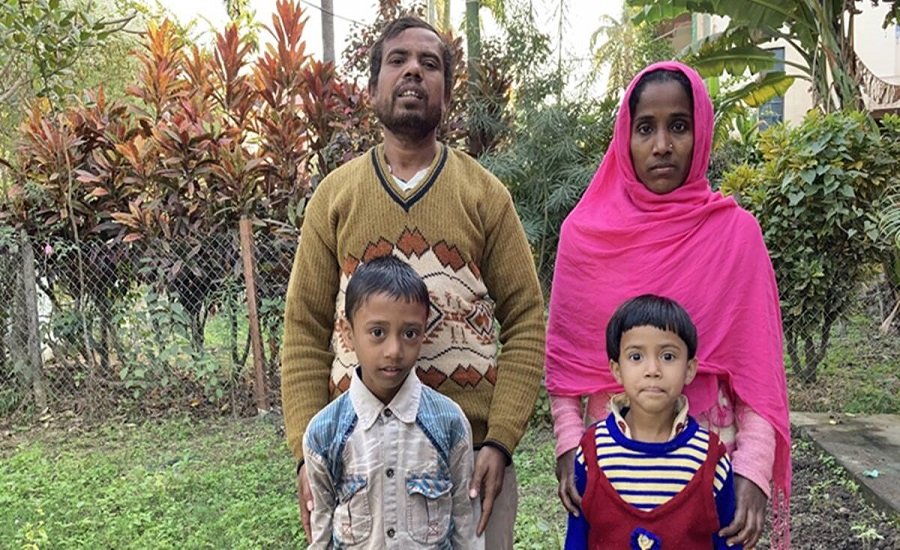 Despite official records mentioning the names of their grandparents and parents, the tribunal declared them non-documented people
Team Clarion
NEW DELHI — A Muslim family of four held in detention since June 2019  after being declared 'illegal foreigners' during the Assam National Register of Citizens exercise have been freed and granted citizenship after a foreigners tribunal found them as documented Indians in the re-trial.
According to Indian Express, Mohammad Nur Hussain, 34, his wife Sahera Begum, 26, and their two minor children belong to Lawdong village in Assam's Udalguri district.
Hussain, a rickshaw puller, was quoted as saying, "We are proud Indians. We belong to Assam. They wrongly accused us of being Bangladeshis and said we illegally crossed the border. How is that possible? I was born here."
Hussain was granted his citizenship on December 16 while his wife Sahera was declared Indian on Wednesday. The re-trial began in October after the Gauhati High Court quashed the tribunal orders.
Part of the ordeal that the family faced is attributed to their inability to afford a lawyer.
Despite official records mentioning the names of their grandparents and parents, the tribunal declared them non-documented people. Unable to hire a lawyer to appeal against the decision, the tribunal went for ex-parte and in June 2019, the couple was sent to a detention centre in Goalpara set up specifically for such people. They took their children along because they had no one to look after them at home.
It was only after their relatives got in touch with human rights lawyer Aman Wadud that they got a chance to be heard at the High Court.
"Not everyone who is accused of being a 'foreigner' gets lawyers. Many Indian citizens are becoming stateless because they can't even afford legal representation," Wadud told Indian Express.