The Jamia Journalism Alums Group announced the name of MA the Mass Com candidate for the Professor Obaid Siddiqui Memorial Scholarship.
NEW DELHI -– Jamia Journalism Alums Group announced that MA Mass Communication candidate Aasma Qureshi has been selected for the first Professor Obaid Siddiqui Memorial Scholarship. The scholarship will cover the full course fees of the two years MA programme.
Aasma, a sociology graduate from Miranda House, University of Delhi, has been accepted for the MA Mass Communication programme this year at the prestigious AJK Mass Communication Research Centre (MCRC) of Jamia Millia Islamia, New Delhi.
Greeting Aasma Qureshi for winning the scholarship, award-winning journalist and alumnus of MCRC, Neha Dixit (2006-2007), in a communiqué said, "Congratulations, Aasma! MCRC is a place that provides equal opportunities and the best access to resources and people who are genuinely interested in the work they do. Glad you are joining the MCRC community."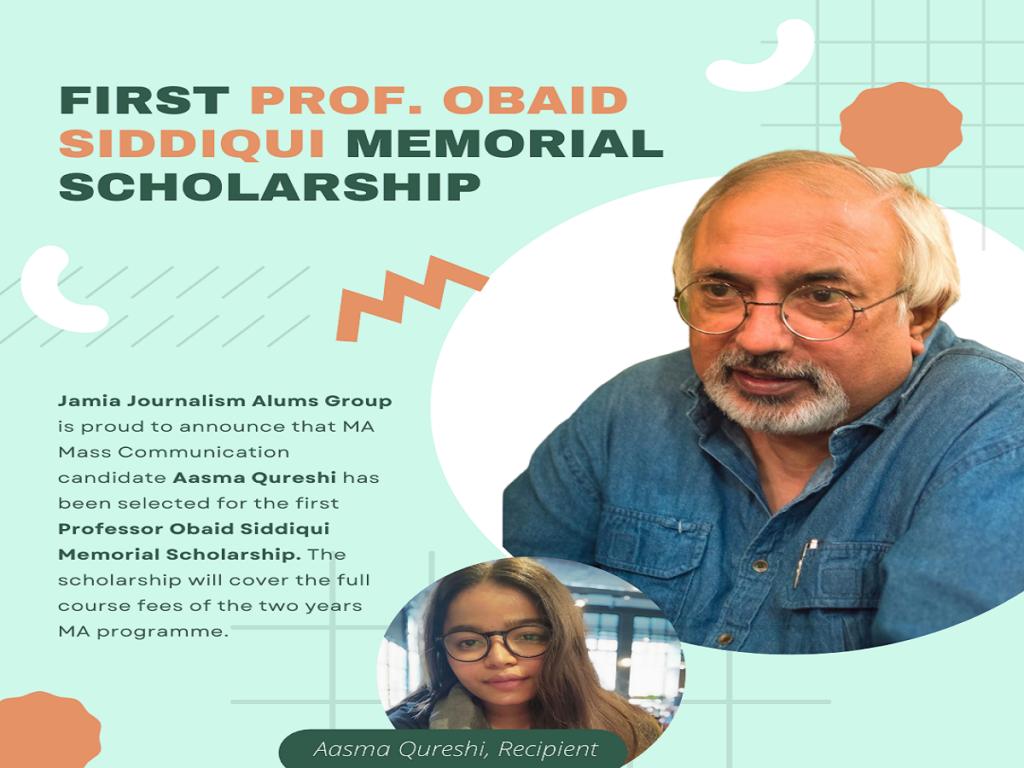 Acknowledging the scholarship, Aasma said, "With the help of the Prof. Obaid Siddiqui Memorial Scholarship, I will finally be able to enrol in Jamia Millia Islamia's Mass Communication program, for which I am incredibly grateful."
"Thank you for your encouragement and support. This will set a precedent for many others like me who lack support but are brimming with skill and enthusiasm," she said in a reply to the MCRC.
The scholarship has been instituted by the Jamia Journalism Alums Group in the fond memory of Professor Obaid Siddiqui who founded the Convergent Journalism Programme at MCRC-Jamia and was a former director of the centre. He died on January 09, 2020.
Professor Obaid Siddiqui Memorial Scholarship would be annually awarded to selected candidates of MCRC who are in need of financial support.
Jamia Journalism Alums Group is an informal association of former and outgoing students of the Masters in Convergent Journalism (MACJ) programme of the university. Initiated as a post-graduate diploma in 2005, the Convergent Journalism programme took shape of a full-fledged master's course in 2007.
Alums of the Convergent Journalism programme are currently working in renowned news outlets like the Washington Post, New York Times, BBC, DW, Times group, Hindustan Times, The Quint, and The Wire amongst others. They have also been winners of awards like the Ramnath Goenka Award, Statesman award, UNFPA Laadli award and New India Fellowship.