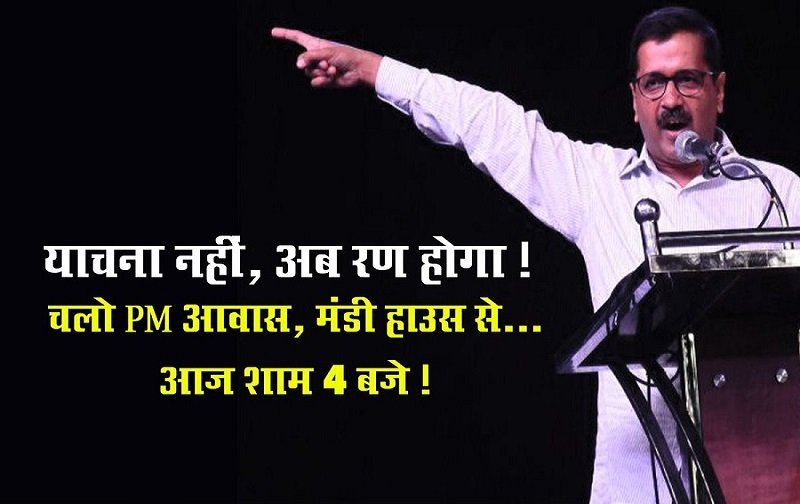 Caravan News
NEW DELHI: The city of Delhi is likely to witness a massive political showdown Sunday afternoon when thousands of supporters of Aam Aadmi Party will march towards the residence of Prime Minister Narendra Modi. The party has alleged that the Modi government is behind the ongoing strike of bureaucrats in the national capital.
Meanwhile, the central government-appointed Lieutenant Governor Anil Baijal is not meeting Chief Minister Arvind Kejriwal who, along with three senior members of his government, is camping at the waiting area of LG's residence for the past six days.
Bureaucrats are on strike for past some days seeking apology from Kejriwal for the alleged assault on Chief Secretary Anshu Prakash at the CM's office four months ago. The Delhi Police, which comes under the central government, had started probe soon after the incident by taking all video footage of the area but has not been able to make a clear case out of it.
The AAP has announced to hold a march from Mandi House to PM's residence at 4 PM. The march will be led by Kejriwal and his team. Leaders of some opposition parties have also announced support to Kejriwal and some of them are likely to attend the march.
On Saturday, in a bid to put pressure on the Centre and the BJP, four non-BJP Chief Ministers met here and discussed a strategy to provide support to protesting Delhi Chief Minister Arvind Kejriwal who wants IAS officers to end their non-cooperation with his government. West Bengal Chief Minister Mamata Banerjee attended a meeting at Andhra Bhawan with Kerala Chief Minister Pinarayi Vijayan, Karnataka Chief Minister H.D. Kumaraswamy and Andhra Pradesh Chief Minister N. Chandrababu Naidu. They had sought appointment to meet LG to resolve the issue. They had also requested permission to meet Kejriwal. But the LG denied both.
Meanwhile, in view of the Sunday march, AAP alleged, the Delhi police are trying to stop party MLAs and their supporters from participating in the march.
Addressing a press conference Sunday noon, AAP leader and MLA Saurabh Bhardwaj said: "Police pickets are being installed outside the home and office of our MLAs. They are being asked when and how they will go to PM's house. All efforts are being made that people are stopped at MLAs' house and office itself."
AAP leader and Rajya Sabha Member Sanjay Singh said: "I will go to march in car, if police stopped my car, I will take bus. If that was also stopped I will take auto. If police did not allow it, I will ride a bike and if bike was stopped I will march on foot but I will certainly reach Mandi House at 4 PM."
Meanwhile, as per IANS, Delhi Metro will keep its Lok Kalyan Marg station shut on Sunday as the Aam Aadmi Party (AAP) is set to march to the Prime Minister's residence located nearby.
"As advised by police, no entry or exit will be available at Lok Kalyan Marg station (from 12 noon)," the Delhi Metro Rail Corp (DMRC) said.
Delhi Chief Minister Arvind Kejriwal along with his cabinet colleagues has been camping at Lt. Governor Anil Baijal's house for almost a week to demand that Baijal issue a directive to civil servants who the AAP leader says are on de facto strike.
Not getting any response from the Lt. Governor, the AAP announced a march to Prime Minister Narendra Modi's residence at 7, Lok Kalyan Marg starting from Mandi House at 4 p.m. on Sunday.
Meanwhile, West Bengal Chief Minister Mamata Banerjee has said that she and three other chief ministers have requested PM Modi to resolve the issue.
"I along with the Hon'ble CMs of Andhra Pradesh, Karnataka and Kerala have requested Hon'ble PM today to resolve the problems of Delhi government immediately," tweeted Mamata on Sunday.
CPI-M and RJD have extended support to the march.