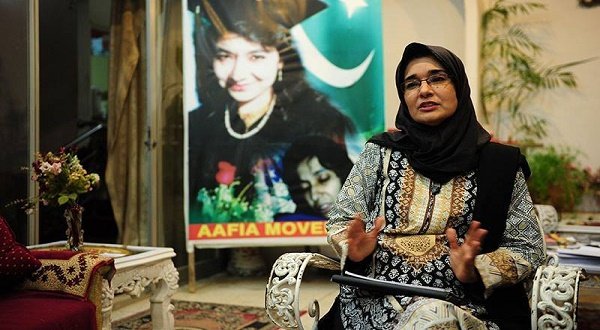 The ISIS has been demanding the release of the US educated scientist Aafia Siddiqui who has been in the US detention for the past several years. The US media described her as the first woman to be suspected of links to Osama bin Laden's terror network — earning her the moniker "Lady Al Qaeda"
KARACHI — From Algeria to Iraq to Yemen, one name crops up again and again in the demands of Islamist hostage-takers: Aafia Siddiqui, the Pakistani scientist jailed in the United States for attacking American soldiers in Afghanistan.Militant groups from Al Qaeda and its offshoots to the Islamic State (IS) have sought the 42-year-old's release in exchange for captives, most recently the US journalist James Foley, beheaded by IS in August.

In an interview with AFP in Karachi, Siddiqui's family protested her innocence and despaired at the horrors associated with her name.

Siddiqui's story, one of the most intriguing of the "war on terror" era, began in March 2003 when Al Qaeda number three and alleged main 9/11 architect Khalid Sheikh Mohammed was arrested in Karachi.

Mohammed, often referred to by his initials KSM, was handed to the Americans and transferred to Guantanamo Bay, where he was repeatedly waterboarded and "rectally rehydrated" as part of interrogations, according to a Senate report on CIA torture.

Soon after his arrest, Siddiqui — suspected of Al Qaeda links by the US — disappeared along with her three children in Karachi.

The few US media reports about the incident described her as the first woman to be suspected of links to Osama bin Laden's terror network — earning her the moniker "Lady Al Qaeda".
Plot claims
Five years later she turned up in Afghanistan, where she was arrested by local forces in the restive southeastern province of Ghazni.
According to US court papers, she was carrying two kilos of sodium cyanide hidden in moisturiser bottles, along with plans for chemical weapons and New York's Brooklyn Bridge and Empire State Building.
The Afghans handed her to US forces who began questioning her. During her interrogation she grabbed a rifle and opened fire, according to witnesses, at US agents while screaming "Death to America" and "I want to kill Americans".
The soldiers escaped unhurt, but she was injured.
From Afghanistan, Siddiqui was put on trial in the US and sentenced in 2010 to 86 years for attempted murder — and not for any Al Qaeda links.
Much about the case remains unclear — where was Siddiqui between her disappearance in 2003 and reappearance in 2008?
Even the US trial judge Richard Berman acknowledged in his verdict that it had "never definitely been established why Dr Siddiqui and her son were in Afghanistan".
Her supporters claim she was the victim of a secret Pakistan-US plot.
According to her family, Siddiqui and her three children — Ahmed, Mariam and little Suleiman, then six months old and today dead — were about to leave their house in the Gulshan-e-Iqbal district of Karachi for the airport when they were apprehended by Pakistani and US agents.
"When Aafia left, couple of hours or so later, there was a knock at the door. My mom walked to the gate and asked 'who is it?'" Fowzia Siddiqui, Aafia's sister told AFP.
"He… said something like: 'If you say anything or report this to the police, you will have four dead bodies'."
At her trial in New York in 2010 — her only public appearance since 2003 — she said she was detained for a "long time" in a "secret prison" in Afghanistan.
Her supporters said she was the "ghost prisoner" in Bagram, serial number 650, but this is denied by the US.
'If Aafia knew…'
There was little in Siddiqui's upbringing in an elite family to suggest her life would pan out as it has.
After a childhood split between Pakistan and Zambia, the 18-year-old Siddiqui travelled to Texas, where her brother lived, before studying at Boston's prestigious MIT and doing a PhD in neuroscience at Brandeis University.
Ismat Siddiqui, the mother of US-detained Pakistani woman Aafia Siddiqui, watches a news channel after a court verdict in Karachi. — AFP/File
In the 1990s, her family arranged a marriage for her with Amjad Khan, a Karachi doctor who joined her in the US.
Between her studies, she devoted herself to charities and distributing Qurans at her university.
From 2001, the couple appeared on the FBI radar for donations to Islamic organisations and the purchase in the husband's name of $10,000 worth of nightvision goggles, books on warfare and other equipment.
The following year they returned to Pakistan and Aafia asked for a divorce.
American officials suspect she has remarried Ammar Al-Baluchi, KSM's nephew, though her family deny this.
Some US officials believe Siddiqui was with Al Qaeda since her time in America and spent 2003-2008 in Afghanistan with the family of Baluchi, who was arrested in 2003 and interned in Guantanamo.
Her family deny this, while former military ruler Gen (retd) Pervez Musharraf said he would not have handed a Pakistani over to the US.
"Our views were clear: no Pakistani will ever be handed over to anyone — that was our policy and we followed it very strictly," Musharraf told AFP.
As the "war on terror" winds its way through its second decade, Siddiqui risks going from "Lady Al Qaeda" to "Lady Islamic State", after the Foley episode.
"If the US isn't doing anything about it, if the Pakistanis don't do anything about it, people like Daish (the Islamic State) will exploit" the case, her sister says.
"If Aafia knew about this the way her name is being used, she would be devastated. "