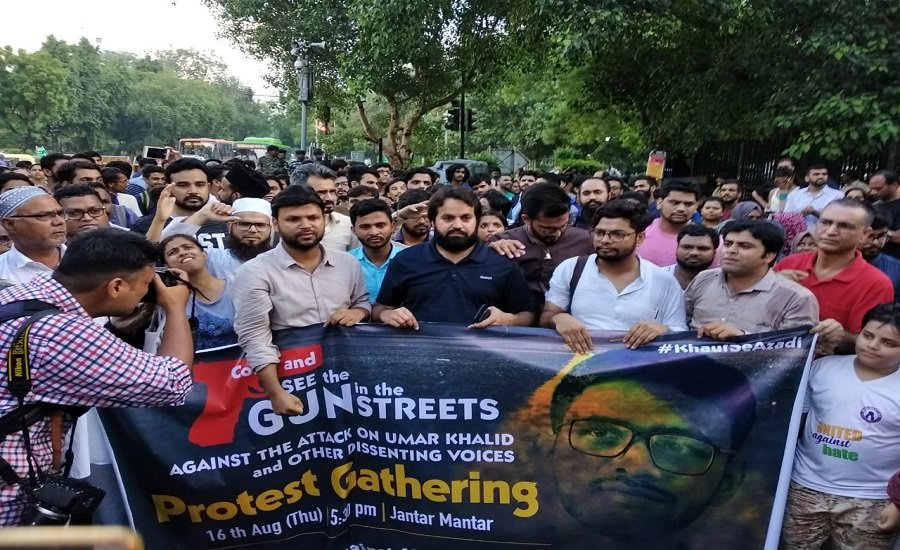 Student leaders and activists expressed surprise as to how such attack took place in a high security area just and why no action has been taken against the culprits.
Ghazanfar Abbas | Caravan Daily
NEW DELHI — Hundreds of youth leaders, students and activists staged a massive protest on Thursday demanding immediate action against those who had attempted to kill JNU scholar Umar Khalid two days before Independence Day in New Delhi.
Questioning no action against the attackers so far, protesters alleged that the attack took place with the 'patronage' of the  BJP government and its patron organization Rashtriya Swayamsevak Sangh (RSS).
Speaking to Caravan Daily, student leaders expressed surprise as to how such attack took place in a high security area just two day before Independence Day.
"That was a blatant attack just before 15th August that too in the area which is supposed to be the most protected area, very close to Parliament House, is surprising as the man with a gun was roaming free," Geeta Kumari JNU Students' Union (JNUSU) president said.
"It is not something that is isolated, for the past two years there has been a vilifying campaign against JNU students especially, Umar, Kanahiya Kumar and Shehla Rashid to project them as anti-nationals. Whoever speaks against RSS and BJP, this is happening to them," she further said.
She said that police did not take Umar's complaint seriously that he was being threatened regularly.
Youth leaders, students, activists protest demanding immediate action against those who attempted to kill Umar Khalid.

Posted by Caravandaily on Thursday, August 16, 2018
Former General Secretary of JNUSU Rama Naga said that it is a question of the security of all activists.
"It is not an attack on Umar Khalid only, it is an attack on all activists who are protesting against the current government led by PM Narendra Modi. We will not sit silent; we have to come on streets," he said.
Blaming BJP for defending the attackers, Mohit K Pandey, former president of JNUSU said, "Right after when Umar was attacked, the BJP leaders came in defence of attackers and said the attack was staged. They had gone silent only when Delhi police said that it was not a staged attack."
Condemning the attack on Umar, Simone Zoya Khan, vice president of JNUSU demanded immediate arrest of attackers. "Police must take stringent action against them," she said.
"Even no action was taken against those who just few days before Independence Day burnt a copy of the Constitution at Jantar Mantar," she expressed concern.
Fahad Ahmad, youth leader from TISS (Tata Institute of Social Sciences), said, "There is no fear among goons now, and they are trying to instill fear among those who are raising dissent voices against the administration."
On August 13 at arouns 2:30pm, two unidentified persons attacked Umar Khalid outside Constitution Club, less than a km from the Parliament House. One of the attackers tried to overpower him from behind but soon Umar's friends who were there rushed to the spot and tried to catch the attacker. But flashing a pistol he ran away and from across the road and he even opened fire. No one was hurt.
The fight for "Freedom Without Fear" will not stop: Umar Khalid

Posted by Caravandaily on Thursday, August 16, 2018
The incident occurred just before the start of the program- "kauf sey Azadi" (Freedom Without Fear) organised by United Against Hate (UAH) team on several cases of lynching and hate crimes in recent years. Omar Khalid had come there to participate in the programme.
Hate campaign by media 
Sucheta de, national president of AISA (All India Students Association) alleged that a regular hate campaign against Umar by a 'paid media' is responsible for attack on him.
"Now no paid media is going to express their outrage and call the attackers anti-nationals. This paid media has adopted a project understandably to turn this country into a killing field. This county will fight this mentality patronised by RSS and will not allow 'fear' to become the language of Independent India," she said.
Renowned activist and film-maker Sanjay Kak said that attack on Umar Khalid is a culmination of the process that has been undergoing for a long time.
"Main stream media has been making these young students as villain and creating an atmosphere for such attack," he said adding that now after the two men who have claimed their responsibility for attack, whole world has to watch how the government is going to respond.
Shuddhabrata Sengupta, an artist and writer said, "The Facebook pages of both men who have claimed the responsibility of attack on Umar, shows their political affiliations."
Why attackers not being Arrested?
Activists also raised a question that why the culprits are not being arrested even as they have claimed responsibility for attack.
Demanding arrest of the cuprits, Kavita Shrivastava, Rajasthan president of PUCL (Peoples' Union for Civil Rights) asked why those who have openly claimed on video that they carried out attack have not been arrested yet.
"This shows the patronage they got from BJP, RSS and police," she alleged.
Social activist Nadeem Khan from UAH while addressing the gathering said, "We forwarded the video of the two men claiming attack, their Facebook profiles and telephone numbers to Delhi police, but even after that no action has been taken."
"Is police waiting for their surrender?" Khan asked.