PESHAWAR — At least 100 people, 84 of them children, have been killed in a Taliban assault on an army-run school in Peshawar, Pakistani officials say, according to BBC.
Five or six militants wearing security uniforms entered the school, officials said. Gunfire and explosions were heard as security forces surrounded the area.
The army says most of the school's 500 students have been evacuated. It is not clear how many are being held hostage.
A Taliban spokesman says the assault is in response to army operations.
Hundreds of Taliban fighters are thought to have died in a recent military offensive in North Waziristan and the nearby Khyber area.
A school worker and a student interviewed by the local Geo TV station said the attackers had entered the Army Public School's auditorium, where a military team was conducting first-aid training for students.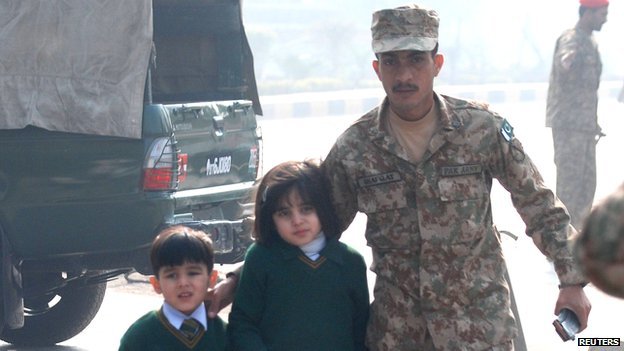 Pakistani troops have been helping evacuate children from the school
Local hospitals have been treating the injured
Troops have sealed off the area around the school
Mudassir Awan, a worker at the school, said he saw six people scaling the walls of the school.
"We thought it must be the children playing some game," he told Reuters news agency. "But then we saw a lot of firearms with them.
"As soon as the firing started, we ran to our classrooms," he said. "They were entering every class and they were killing the children."
Locals said they also heard screams of students and teachers.
Ambulances have been carrying the injured to a nearby hospital. A helicopter is also in the area.
The dead are said to include teachers, as well as a paramilitary soldier.
The attack started at 10 am local time (0500 GMT).
The school is at the edge of a military cantonment in Peshawar, which has seen some of the worst of the violence during a Taliban insurgency in recent years.
Pakistani Prime Minister Nawaz Sharif has described the attack as a "national tragedy".