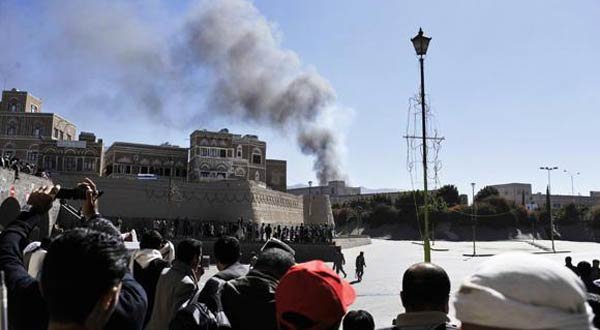 SANAA: A suicide bomber rammed an explosives-laden car into the Yemeni defense ministry Thursday, opening the way for gunmen who stormed the complex, leaving at least 25 dead and 40 wounded, security officials said.
Six medical staff of a hospital inside the complex, including a Venezuelan and two from the Philippines, were among those killed, medical and security sources said.
The death toll also includes three Yemeni doctors and five patients, among them a judge, a medic said.
Officials also said at least 15 soldiers and as many as 12 gunmen were killed in a firefight between troops and a carload of attackers who arrived minutes after the early morning blast, apparently in a bid to take over the complex in downtown Sanaa, Yemen's capital.
They said the gunmen were armed with assault rifles, hand grenades and rocket-propelled grenades. They wore Yemeni army uniforms, the officials said.
There was no immediate claim of responsibility for the attack, which bore the hallmarks of Al-Qaeda, whose chapter in Yemen is considered among the world's most active.
The brazen attack on the sprawling complex follows a spate of hit-and-run strikes on military personnel and officials, as the country struggles to complete a thorny political transition.
The attacks in the capital and in the country's south have been blamed on Al-Qaeda in the Arabian Peninsula (AQAP), which Washington regards as the jihadist network's most dangerous branch.
"At least 20 people have been killed in the attack," the defense ministry said in a brief statement.
"A car bomb driven by a suicide bomber forced its way into the western entrance of the ministry complex," a security official told AFP.
"It was followed by another car whose occupants opened fire at the complex of buildings," he said.
The defense ministry said gunmen occupied the Defense Hospital, within the complex, after the explosion, but security forces had regained control of the building.
Officials said the gunmen were either killed or captured.
In an apparently coordinated attack, security forces also came under gunfire from outside the complex, a security source said.
Plumes of smoke billowed across the complex, situated on the edge of the Baba Al-Yaman neighborhood, as gunfire was heard.
Yemen has been going through a difficult political transition since veteran president Ali Abdullah Saleh was ousted in February 2012 after a year of deadly protests against his 33-year rule.
The transition is expected to culminate in a new constitution and pave the way for parliamentary and presidential elections slated for February 2014, but it still faces many hurdles.
There are growing demands for the secession of the formerly independent south, in addition to on-off fighting in the far north between the Shiite rebels and hard-line Sunnis.
Yemen is also battling AQAP, which Washington regards as the jihadist network's most dangerous branch.
AQAP often attacks members of the security forces, despite suffering setbacks in a major army offensive last year and repeated US drone strikes targeting its commanders. Arab News