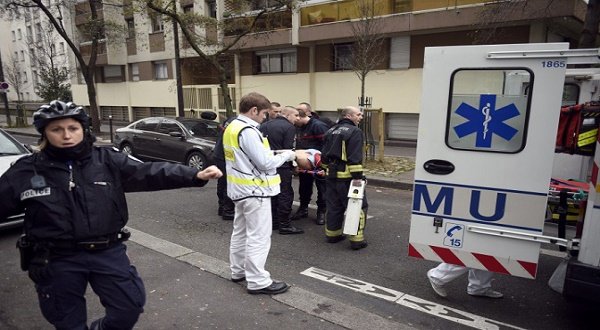 FRENCH WEEKLY, CHARLIE HEBDO, HAD REPEATEDLY TARGETED ISLAM AND PROPHET DRAWING PROVOKING MUSLIM PROTESTS
Associated Press
PARIS – Masked gunmen stormed the offices of a French satirical newspaper Wednesday, killing 12 people before escaping, police and a witness said. The weekly has previously drawn condemnation from Muslims.
French President Francois Hollande called the slayings a terrorist attack and said that several other terror attacks have been thwarted "in recent weeks."
Xavier Castaing, head of communications for the Paris police prefecture, confirmed the deaths in the shooting at the offices of Charlie Hebdo, a satirical weekly that been repeatedly threatened for publishing caricatures of the Prophet Muhammad, among other controversial sketches.
Hollande rushed to the scene and top government officials planned an emergency meeting.
Luc Poignant, an official of the SBP police union, said the attackers escaped in two vehicles.
A witness to the attack, Benoit Bringer, told the iTele network he saw multiple masked men armed with automatic weapons at the newspaper's office in central Paris.
Charlie Hebdo's offices were firebombed in 2011 after a spoof issue featuring a caricature of the Prophet Muhammad (pbuh) on its cover. Nearly a year later, the publication again published crude caricatures of the Prophet, drawing denunciations around the Muslim world.